Darren Smith
tel:021 928 053
Territory Manager - North Waikato / Hauraki / Coromandel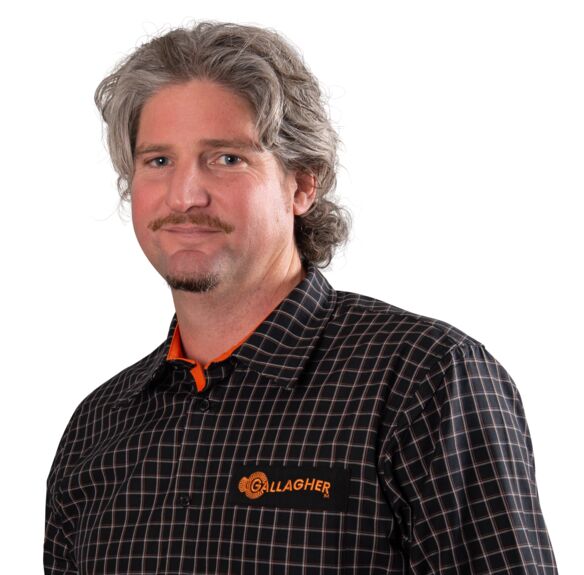 North Waikato Territory Manager Darren Smith did not envisage himself working for an agri-tech company when he had embarked on a career in freight forwarding.
But in 2006, he decided to quit his job in Auckland and take up a customer service role with Gallagher at the head office in Hamilton.
Like many people growing up in New Zealand, he had family who lived on farms that he often spent time with and, he says once starting at Gallagher he realised what an interesting industry it was, and Gallagher's role in being a leader in innovation.
After eight years in the role helping farmers and rural retailers with questions and product issues, he had the opportunity to take up the position of Territory Manager in 2014.
It's taken his role in helping remotely a step further and he enjoys the one on one contact he has with a wide variety of farmers and retail trade managers throughout the varied agricultural region. It is a region that has undergone some major land use changes on Darren's watch. Forest to farm conversions have brought new demands for Gallagher fence systems, and a wider variety of forage crops now used for autumn and winter feed supplies also require high-quality fence systems to ensure they are consumed as intended.
Darren's favourite piece of Gallagher fencing equipment is the industry-leading M10,000i Energizer. Recognised as the most powerful fence energizer in the world, he also appreciates promoting its innovative monitoring abilities to farmers.
"It has the ability to not only deliver a high voltage charge, but it delivers better fence system management, showing all fence information including voltage, faults, and location."
When he's not working Darren is a keen presidents rugby club player and a hands-on dad spending time with his wife and two primary school aged children.