Replacing guess work with weighing systems for optimal farming
Tuesday, 23 November, 2021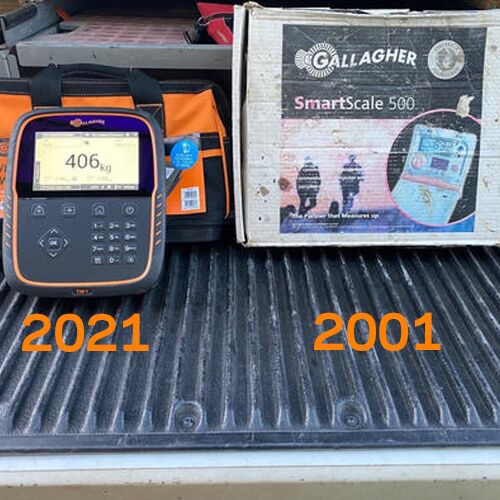 To make the best animal management decisions for your farming operation, weighing your livestock has always been a powerful tool that should be utilised to keep track of animal performance.
No matter how you weigh your animals, it's widely agreed across the board that it's a crucial measure to get insight into animal performance, growth, and health. It's also a key tool for farmers to track progress.
We've come a long way with techniques to measure livestock. Even with all the technology available, farmers around the globe are still using a variety of methods to weigh and assess their animals.
Some of these methods include estimation by eye, weigh bands, measuring tape, and clock scales. Each come with their own challenges, like recording information on scrap paper, manually entering data, and losing print records.
Just like people, all animals are different, and have different shapes, sizes and builds. Monitoring animal growth by eye, for example, is not a great way to estimate an animal's weight for sale or to separate stock into different groups based on their growth. Everyone's eye is different and it's difficult to get a consistent measure, which is where weighing comes in. It's consistent and accurate, you can't argue it.
As time passes producers need to find ways to be more productive and efficient. They need better tools to manage their livestock. With the development of new technology, weigh systems have become an essential tool for animal management. Early weigh systems could only provide you with a weight on an analogue display, which has difficulties with accuracy. This progressed to early digital systems and now we are looking at the systems that collect more and more data and information about an individual animal. All this information helps you make better-informed decisions around feed, treatment and selling.
Our Farm Technologies Product Manager, Brian Rose, says throughout the industry it's well understood that weight is a good measure of how well an animal is doing. "You can't manage what you don't measure. If you're weighing livestock regularly, and they aren't hitting the targets, it's a good flag to investigate and see if the animal is healthy. If you're doing that by eye, it's going to be very difficult to be objective and consistent."
Weigh Scales are considered an essential tool for farmers. Recording and weighing your livestock can help figure out the right time to sell stock, let you know if your stock are healthy, aid purchase and sale decisions, determine the optimum time to wean stock, and help determine when and how to separate livestock, to name a few.
While many farmers may still manually estimate animal growth rates, there's no denying that moving to a digital system will save you time, be more accurate and enable you to make better more informed decisions.
Combining a weigh scale with an electronic identification (EID) reader offers even more value to famers and allows you to measure animals much easier at an individual level. The EID is a unique identifier which can be read by an EID reader removing the need for the farmer to manually read a tag number/brand. This can be used on the weigh scale to record and track an individual animal's performance over its lifetime by linking weight and data records to the animals EID number.
Brian says an integrated weighing and EID system is the best option for farmers looking to manage their business. "This advanced system works together to automate animal management and handling tasks, saving you time and money."
EID is also the most efficient way to identify and trace individual animals. As traceability schemes are implemented worldwide to manage food safety and biosecurity risks, EID systems are becoming increasingly important. It is also a quick and easy way to collect and access animal data anywhere.
Our Touch Screen Weigh Scale Range has touch screen technology, meaning access is easier than ever, and with WiFi and Bluetooth capabilities make it easy to connect with EID readers and sync your data with our Animal Performance web and mobile app. The Animal Performance app enables users to take control of their data, track individual animal performance and make better decisions.