Gallagher M5800i Energizer Hard To Beet
Wednesday, 28 October, 2015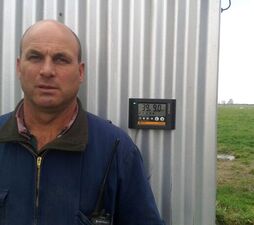 Rotokaia Farm's new Gallagher i Series Fence Energizer is doing a great job protecting a valuable fodder beet crop from overgrazing.
Canterbury farmers Dave Jackways and Steve Booker, who manage the syndicate-owned farm, bought an M5800i Energizer in June this year to beef up their electric fencing system on a 230ha run-off between Rakaia and Ashburton.
This run-off is used for grazing young stock and for wintering many of the operation's 1950 cows from the 750ha home farm near Dorie.
This year the run-off is growing 70ha of fodder beet for winter feed. While fodder beet can be expensive to grow, its high metabolisable energy content make it an ideal crop for wintering cows. But cows have to be gradually transitioned onto the crop through careful breakfeeding.
"We don't want the cows getting too much too soon because that could be fatal," Dave says.
This is where the new M5800i Energizer comes in. Dave says the M5800i is a very reliable unit that keeps electric fences hot. Packing 58 joules of energy, the M5800i is capable of powering fencing systems up to 240ha.
"We needed something with plenty of power, and the M5800i is just right for the job."
Intelligent and highly functional, the M5800i comes with an Energizer Controller that can be positioned away from the main Energizer unit. This controller enables the farmer to monitor the condition of the fence and performance of the Energizer. It can also be used to turn the Energizer unit on or off, set alarm levels and make fine-tuning adjustments to the target output voltage.
Dave says their Energizer is mounted inside an irrigation pump shed and the Energizer Controller is mounted on the outside of this shed "where it's easy to see when you are going past".
Four Fence Monitors spread around the run-off recognise any drop in performance at their location and immediately relay this information to the Energizer Controller.
The M5800i was also supplied with an Energizer Remote and Fault Finder which enables the farmer to quickly locate faults, turn the Energizer on or off remotely, and test a fence once a repair is completed.
Dave says the remote saves a lot of time and effort when shifting temporary fences on pasture or crops.
"Most of our breaks are big, long faces, so if we come across a problem when moving the fence we can turn the power off using the remote, fix the problem, turn it back on again and then carry on."
"It tells you exactly which part of the farm the fault is in and where it is, so you don't have to trudge over the whole farm looking for it."
Rotokaia Farm also bought an optional SMS Energizer Controller unit that requests and receives fence performance information via SMS text messaging. This system notifies the farmer via mobile phone if there is any problem with the fence.
"Our cell coverage here is pretty dodgy but Gallagher are working on getting this up and running for us," says Dave, "and it's going to be very useful."
The new M5800i is one of four Gallagher Energizers owned by Rotokaia Farms. Dave says the operation runs a range of Gallagher equipment, including a set of W810 weigh scales which are used for monthly young stock weighing.