Gallagher Launches the World's Most Powerful Energizer Ever
Thursday, 26 February, 2015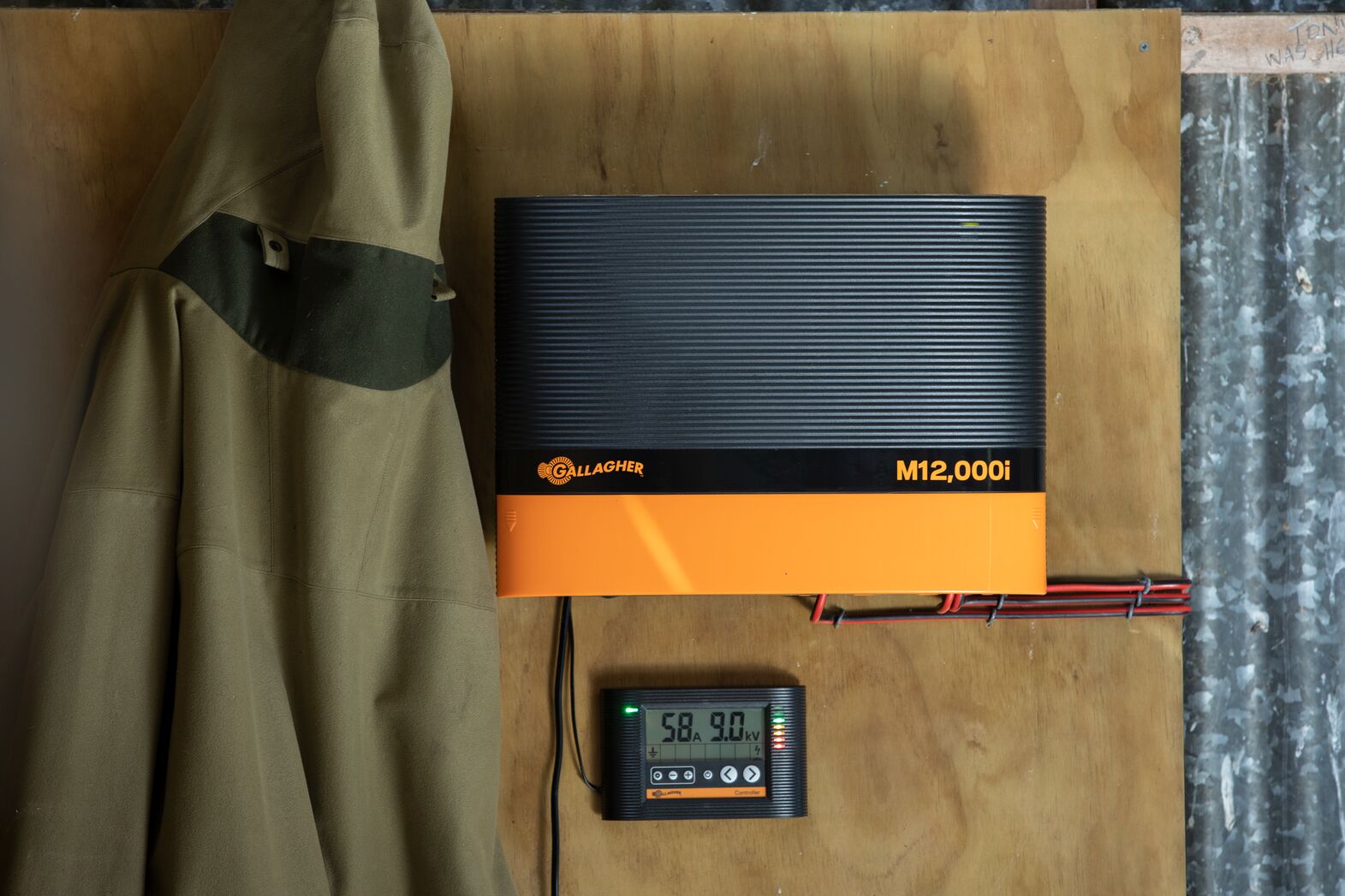 The Gallagher M10,000i Fence Energizer - the most powerful Energizer ever produced - is now available in New Zealand and coming soon to other markets around the world.

Gallagher's New Zealand National Sales Manager, Peter Nation, says the M10,000i packs a whopping 100 joules of stored energy and will outperform any other electric fence energizer on the market.

"Land use in New Zealand has changed considerably in recent years, and farms are getting bigger. So the M10,000i Fence Energizer has been designed specifically to meet the demands of larger properties that need plenty of power over longer distances."

Robustly built to handle the toughest of farm conditions the M10,000i will power electric fencing systems spanning up to 405ha, and its high-efficiency circuitry delivers outstanding performance and stock control.

Part of the hugely popular i Series range of Energizers, the new M10,000i combines sheer brute force with incredible intelligence, delivering advanced monitoring capabilities to give farmers peace of mind their animals are where they should be.

"A good Energizer is like an invisible asset protector, making sure that valuable animals, pastures and crops are all safe and secure."

Like other i Series Energizers, the M10,000i comes with an Energizer Controller unit to monitor Energizer performance and highlight any faults in the fencing system. This Energizer Controller can be positioned up to 50 metres away from the main Energizer in a conveniently-accessed location where it is easy to view.

Fully waterproof, the Energizer Controller displays the Energizer's voltage and current readings and can be used to turn the Energizer on or off, set alarm levels and make fine-tuning adjustments to the Energizer's operational output voltage.

Up to six Fence Monitors can be installed around the farm and linked back to the central Energizer Controller to create a fully monitored fence system. – saving considerable time, and giving farmers the confidence the fence is working effectively.

"Having six Fence Monitors spread around the farm is a bit like having six staff members out there looking after six different zones, all the time" says Peter Nation.

"But the beauty of the i Series Energizer is that everything is monitored for you, so staff can focus on other jobs. It's a huge labour-saver, especially for those larger farms with bigger fencing systems."

The M10,000i can be supplied with an optional Remote that enables the farmer to quickly locate faults within a monitored zone, turn the Energizer on or off remotely, and test a fence once a repair is completed.

Improving functionality even further, an optional SMS Energizer Controller enables fence performance to be monitored and controlled from anywhere with cell coverage. This means that if a problem with a fence is detected, the farmer is notified immediately via mobile phone.

And for existing I series owners all i series Energizer accessories are fully compatible with different i Series Energizer models, enabling farmers to upgrade to this new bigger unit without having to buy new accessories.

Peter Nation says the M10,000i Fence Energizer is another example of Gallagher's commitment to creating innovative products that increase productivity and make farmers' lives easier.

He says the M10,000i will be on show at regional field days throughout the country and will also be displayed at the National Fieldays in June. It will be available through Gallagher resellers from early April.