Gallagher leverages decades of global experience to bring virtual fence to beef farmers
Sunday, 21 May, 2023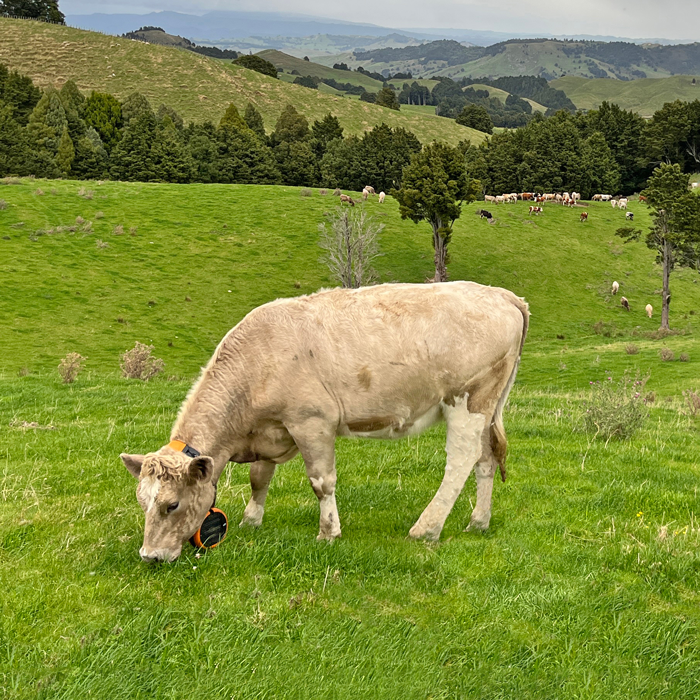 Gallagher is leveraging decades of global agricultural experience to bring to beef farmers a reliable and virtual fencing solution, eShepherd™.
For the last 6 years, Gallagher has been partnering with New Zealand and Australian beef farmers to trial eShepherd. The technology has proven particularly effective in helping farmers improve pasture management and protect riparian zones, despite farming on remote and vast landscapes.
"As margins get squeezed, farmers are focused on getting the most from their pasture and growing animals faster with less inputs," says Gallagher Global Strategy & New Ventures Manager Sarah Adams.
"For many beef farmers, this includes finding ways to access remote areas of their farms that are difficult to fence and utilise pasture that is currently being wasted. The way they farm also means they manage animals with less human interaction.
"Insights from our customer research are telling. Farmers are crying out for cost-effective ways to permanently exclude animals from dangerous areas, and from waterways and protected areas to comply with environmental regulations. This is a significant challenge that virtual fencing can help farmers tackle."
New freshwater regulations in New Zealand mean that by July 2025, all stock must be excluded from wetlands and waterways.
"This could potentially cost some beef farmers millions of dollars in traditional fencing," says Sarah. "With rising fencing costs, skills shortages and long lead times for fencing materials, they are desperately looking for alternative solutions that can save them time and money long term.
"We have a list of loyal customers who have followed our eShepherd journey over the last few years. They are eager to get their hands on this technology because they know it will be a gamechanger for their operation."
Gallagher has been in business for 85 years and works with farmers around the world. Sarah says her team knows from experience that partnering closely with them to develop the right solutions is crucial.
"That's why we have spent time in the field trialling eShepherd and putting the technology and the hardware through its paces before bringing it to market. It was important for us to get farmer feedback throughout the process and tweak our design to make sure we give farmers a solution they can rely on.
"The result is a tried and tested virtual fencing solution that farmers can be confident will improve pasture management, help them meet environmental regulations and save them money on traditional fencing – all while achieving sound animal welfare outcomes."
eShepherd was originally developed by virtual fencing technology developer Agersens. Gallagher first began investing in eShepherd in 2016 before it acquired Agersens in 2021.
"Our team are some of the best in the business and we understand farming. We are tapping into Gallagher's decades of experience in developing animal management solutions for farmers around the world to bring eShepherd to the market.
"Gallagher is a global leader in agri-tech. We have a responsibility to deliver our loyal farmer customers a virtual fencing solution they can trust and have complete confidence in. Getting it right takes time, commitment and expertise.
"We are proud to be bringing the benefits of this exciting new technology to the New Zealand beef industry and educating them about how virtual fencing can help them run more profitable and productive business."
Gallagher is now in the final stages of its BETA trials with specific beef operations around New Zealand and getting ready to make this technology available for farmers to purchase. Farmers interested in learning more can register their interest here.
Gallagher is also inviting farmers to its Fieldays site D72 to see eShepherd in action and talk to its team of experts about the benefits the technology could have for their farm business.