Gallagher partners with farmer inventor to take out Fieldays International Innovation Award
Monday, 24 June, 2019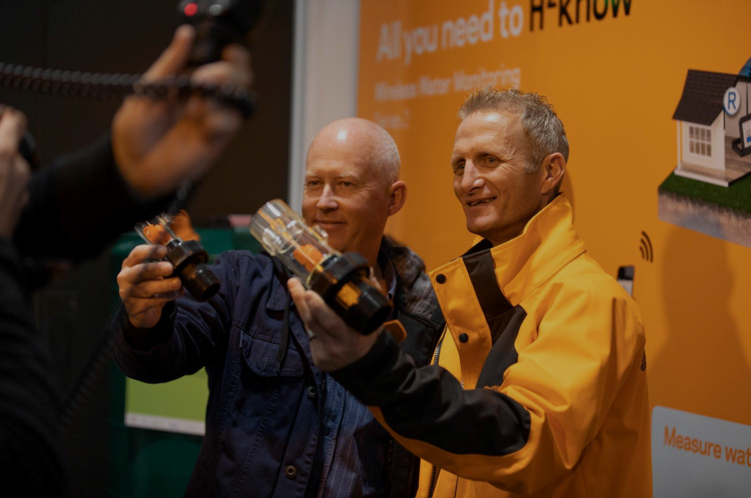 Gallagher and farmer inventor Murray Jones have developed an award-winning water monitoring tool to help farmers save time by finding leaks faster. The Gallagher Water Flow Indicator took out the 2019 Fieldays® International Innovation Award, which was announced this month at Mystery Creek.
Murray Jones is a wool buyer for Carrfields in Gisborne, but farmed for 12 years in Kotemaori, Hawkes Bay. He says the idea was inspired by pure frustration. "Like many farmers, I was sick of wasting time going around my farm looking for water leaks. My wife encouraged me to stop talking about my idea and make it happen."
The process for creating the Water Flow Indicator took nearly seven years and went through a number of prototypes before Murray was ready to take it to the next step. He made a cold call to Gallagher in Hamilton and arranged to meet Global Marketing Manager for Animal Management, Mark Harris in Napier so he could show him the prototype and pitch his idea.
"It was an easy choice to go to Gallagher," says Murray. "The company has such a great reputation nationally and globally, and their marketing reach is pretty hard to beat. I knew what I wanted but I relied heavily on their expertise to make it happen. We have worked in partnership together and they have involved me every step of the way, even when I was hospitalised with serious health issues. I felt reassured they were looking after everything even if I couldn't be there. I'm extremely grateful for that."
By installing it at important junctions in water lines, the Water Flow Indicator enables farmers to find leaks easily by visually checking for abnormal water flow. The dual colour impellor makes it easy to see water direction and speed. It is compatible with standard pipe fittings and is available in 1¼" (32mm) and 2" (50mm) sizes. It is made of high quality, UV-resistant, engineering-grade plastic that's easy to install and clean.
In explaining the development process for the product Mark Harris says Gallagher always puts its customers at the centre of everything the company does: "Our farmer inventor, Murray, approached us with a working concept he had made himself. He clearly showed us the benefit the product could provide farmers and gave us a great starting point for the project. With Murray's help, we set up meetings with a number of farmers around the country to understand the issues they face with their water systems. Farmers told us that identifying and then finding water leaks can be time-consuming and frustrating. Some form of easy way to see what is going on inside their pipes would help with this process. We then created a number of different ideas for how this product might work, and tested concepts on several farms – some which were quite different to the final product."
The Water Flow Indicator will be available on dealers' shelves later in the year. It is a simple standalone product that farmers are likely to install in places where they have valves, to see where water is flowing. In announcing the award, judges said they, "enjoyed the brilliantly simple practicality of the Gallagher Water Flow Indicator and recognised how it will help farmers identify system leaks, monitor water flow at glance, and support farmers to meet their obligations around compliance and regulations." Judges also admired the Indicator's standalone nature and appreciated its scalability to offer a more comprehensive on farm water monitoring system through digital communication and easy to use smartphone apps.
Mark Harris says the Gallagher team is extremely proud to have won the award: "Our team is excited to be recognised for delivering a simple but clever solution to a common and frustrating problem on pastoral farms. The award celebrates the very essence of who we are and what we do - we are customer-inspired, working with farmers to develop clever solutions to their problems."