Weighing system ticks all the boxes on multi-stock farm
Tuesday, 22 January, 2019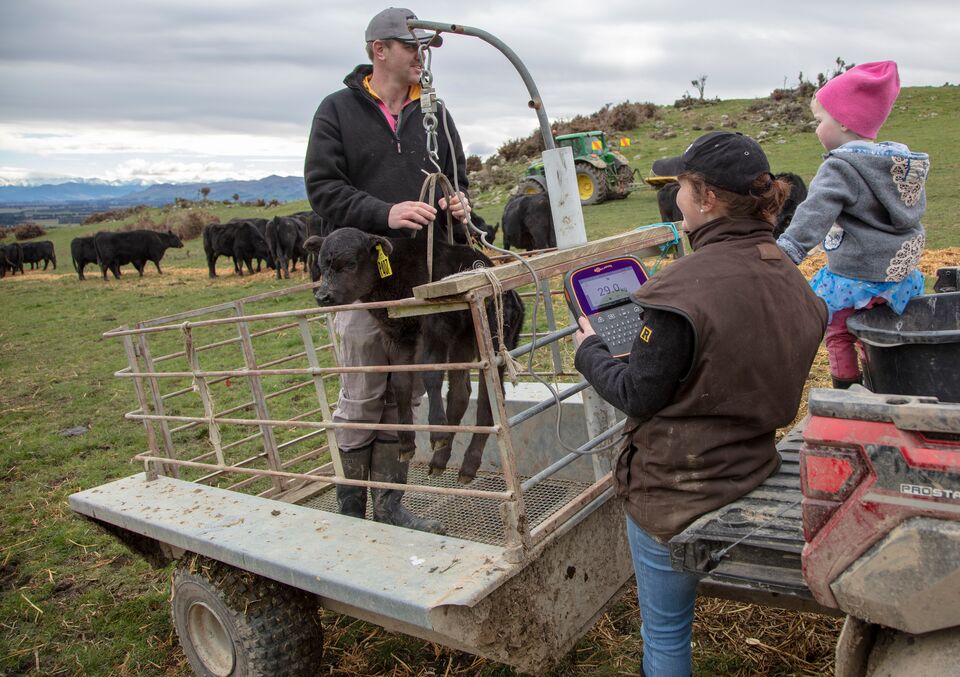 It is a big ask for a weigh system to be adaptable enough to manage three different stock types, with three different data outcomes.
Katherine and Philip McCallum fromRockley Angus Studrun three different business entities on their 319-hectare property near Balfour, New Zealand, comprising dairy heifer grazing, the Angus stud and 1400 breeding ewes including hoggets.
They needed a weigh scale system that could be easily moved for use in the paddock as well their cattle yards and sheep drafting set up.
"It had to be adaptable, but we also wanted something that was fast and simple to use," says Katherine.
They chose aGallagher TW-3 Weigh Scale & Data Collectorand with several months use behind them it has delivered on all fronts, helping the couple and their clients get a better picture of how their livestock are performing.
The TW-3's screen was a key focus in developing the new system, and Gallagher worked hard to make it as intuitive and "smartphone" like as possible.
For Kath the greatest appeal lies in how well it copes with bright, high glare days when most scale screens disappear in the light.
"Our previous scales had to be adjusted for brightness in those conditions but the TW-3 copes really well without needing any adjusting and stays very easy to see."
She also appreciates the lack of any lag when using the touchscreen, and a very simple to understand interface that she believes is easy enough for her kids to use.
"We also enjoy the fact it starts up very quickly, it would be only about 30 seconds and then it's ready to go."
The Angus stud totals 63 breeding cows, so the pressure is on every cow to perform to her optimum, while data recording is also vital for the stud's Breedplan information.
This spring Kath has incorporated the TW-3 into a new portable in-paddock weighing system to weigh newborn calves, providing valuable birthweight data for their records.
"We can assign birth weights to every calf tag number born from day 1.
"We can also load in the calf's NAIT tag number and come weaning time when we weigh we'll get a weight gain figure, giving us a good indication of its Dam's performance."
She also appreciates the wireless Wi-Fi connectivity to her laptop that enables the weighing data to be downloaded directly to her computer which she can then load into Breedplan.
For the dairy heifer business when the couple are regularly weighing the heifers the data can be downloaded directly to MINDA, enabling clients to have complete transparency about how their stock are performing.
"We can also easily identify any stock that are not performing and decide what we will do about them sooner than later. You can easily see if you are heading in the right direction or need a bit of a wakeup call."
When it comes to weighing lambs, the TW-3 slots easily into the couple's three-way drafting system, while its colour coded drafting programme keeps the job simple. It makes the critical pre-Christmas draft far quicker, and then again in late January-February when they are trying to get the lambs away.
Kath also appreciates the TW3's rugged, heavy-duty canvas carry bag which they leave with the scales in it between jobs, charged up and ready to go.
"For us the TW-3 is more than paying its way, my only wish is that it had come out sooner!
It is easy to use, practical piece of equipment that helps with our management and day to day decisions."