Remoulding the process to reduce our plastic waste
Tuesday, 05 July, 2022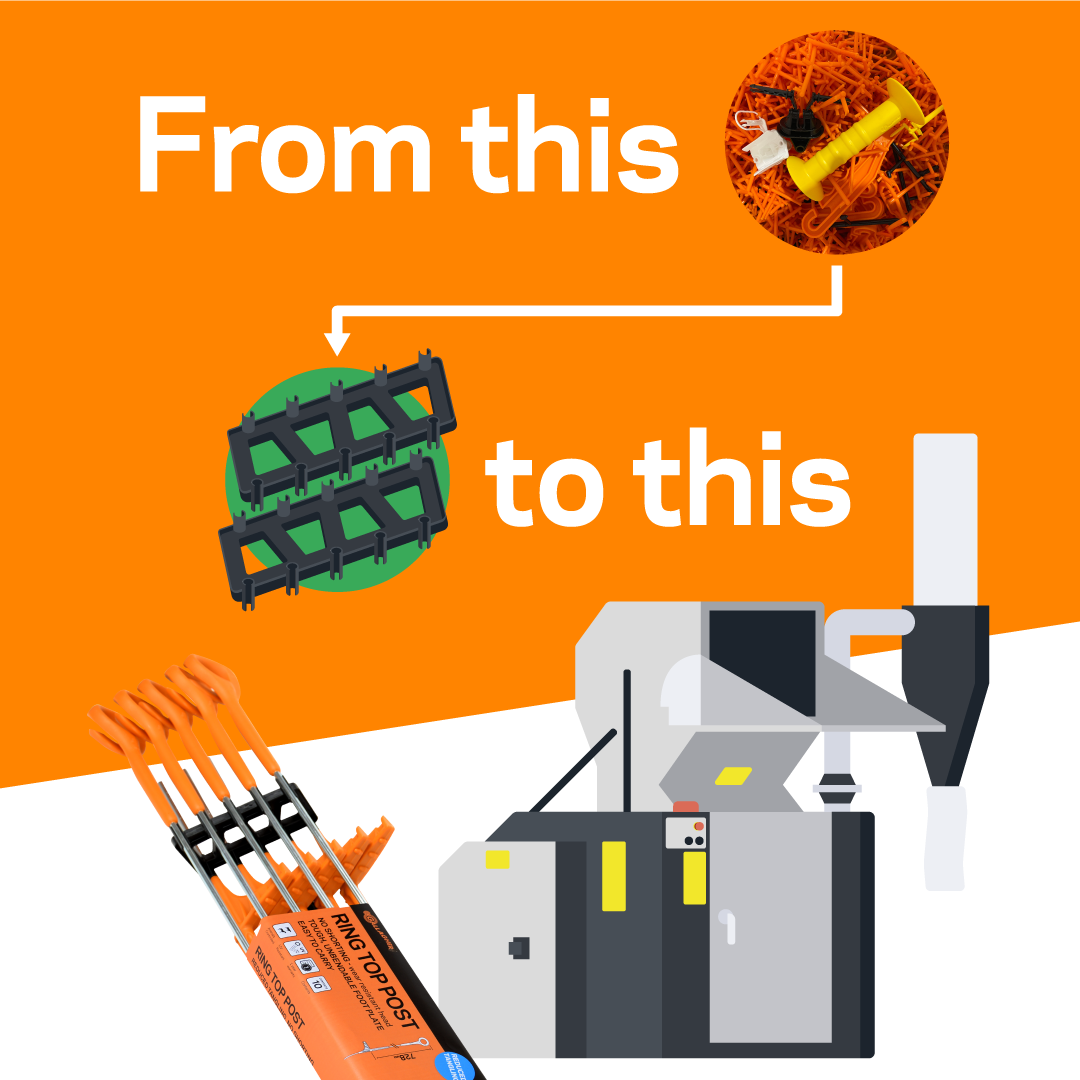 Gallagher Animal Management is committed to playing our part in creating a better tomorrow. This is one of the key pillars for our strategic focus, and something that partners, and consumers ask for. But, working sustainably is not new to us at Gallagher and many of our reuse and recycle projects have been developed, or actively in place for a few years now. One of these initiatives is recycling the waste plastic that comes from our Hamilton manufacturing plant – here's how it works...
What do we reuse?
Around 2.5 tonnes of HDPE and 5 tonnes of ABS plastic a year that don't make the grade for retail products, i.e. defects, faulty or surplus, are kept on-site and ground back to a granular level for other areas in the business to mould into new parts:
HDPE is remoulded into the brackets which hold Gallagher Ring Top posts.

ABS is repalletized at Astron and bought back to Gallagher to be made into Gallagher Reel hubs.
What about plastic we can't reuse on-site?
Another further 5 tonnes of PA, PP, and ABS plastics that are unable to be reused on-site is sent to our recycling partner, Future Post, who grind the waste material, and then UV-stabilises it to produce posts that can be used across many business, landscaping and marine applications.

What's next…
It doesn't end there – the team are always looking for new technologies and sustainable methods to recycle or reuse waste products. For example, we are currently working with Plastics NZ to become an accredited member of Operation Clean Sweep®, an international program that promotes the safe handling and disposal of plastic waste, and best practice processes to keep this material out of the marine environment.
If you are interested in other initiatives which keep us moving towards our goal for a sustainable future check out our Sustainability Projects information.