Portable posts new standard for tough ground conditions
Thursday, 02 May, 2019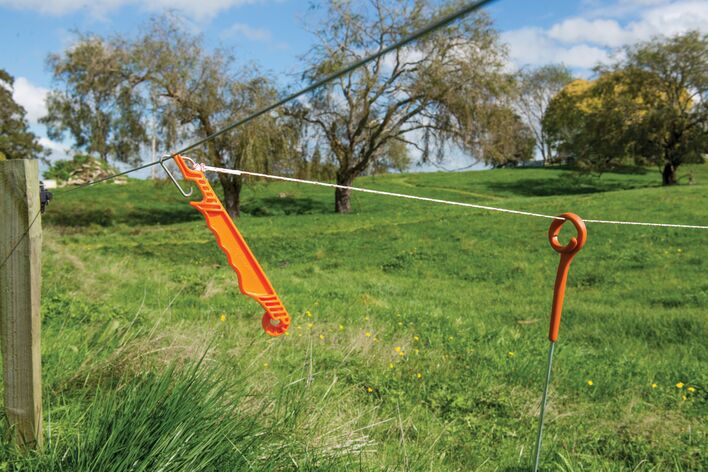 HAMILTON, NZ - Farmers wanting to break feed paddocks and valuable fodder crops in the toughest conditions can now reach for a robust solution from Gallagher to get the job done.
Building on the success of Gallagher's Ring Top Post with its patented head design that eliminates shorting and reduces tangling, farmers now have heavy duty single and multi-wire options to choose from.
Farmers were quick to point out the opportunity to Gallagher fencing product manager Graham Johns.
"We knew when we released the Ring Top Post, we had a very successful product; the head design has proven to be very sound. Farmers loved them in good-to-average ground conditions but pointed out to us there was a massive opportunity to take the head design and add it to a post suited for hard, stony and fodder cropping grounds."
"So, it was a case of taking that successful head design, beefing up the foot and using a thicker steel shaft. This has led to two purpose-built posts being designed that will tread into, and just as importantly, hold in those difficult ground conditions".
The 7mm steel shaft and a wider, heavier duty foot plate with dual spikes will withstand 360 kgs of pressure to ensure superior ground holding.
"The foot is extremely tough. We've filmed comparisons in a vice and other pigtails quickly bend into a staple whereas our foot strongly holds its shape."
The multi-wire option was also a natural addition to the range.
"Farmers that are break feeding heavy crops, especially in the South Island, were missing out on the Ring Top benefits because of the need for a multi-wire solution."
"We knew that if we could take the head design and create a multi-wire option, we'd be onto a winner".
The multi-wire option comes with three insulators per post and the robust, short-proof glass filled insulators snap on easily, and are easily replaced if required.
Wire heights and spacing allow multiple customised heights, with the flexibility of the Ring Top head for whenever single wire fencing is needed.
"Thanks to input from our valued farming customers, we believe we have come up with the ultimate solution to the most demanding of temporary fencing jobs, regardless of stock or crop type," says Graham.