Electronic livestock identification (EID) makes heifer recording easy
Saturday, 01 January, 2022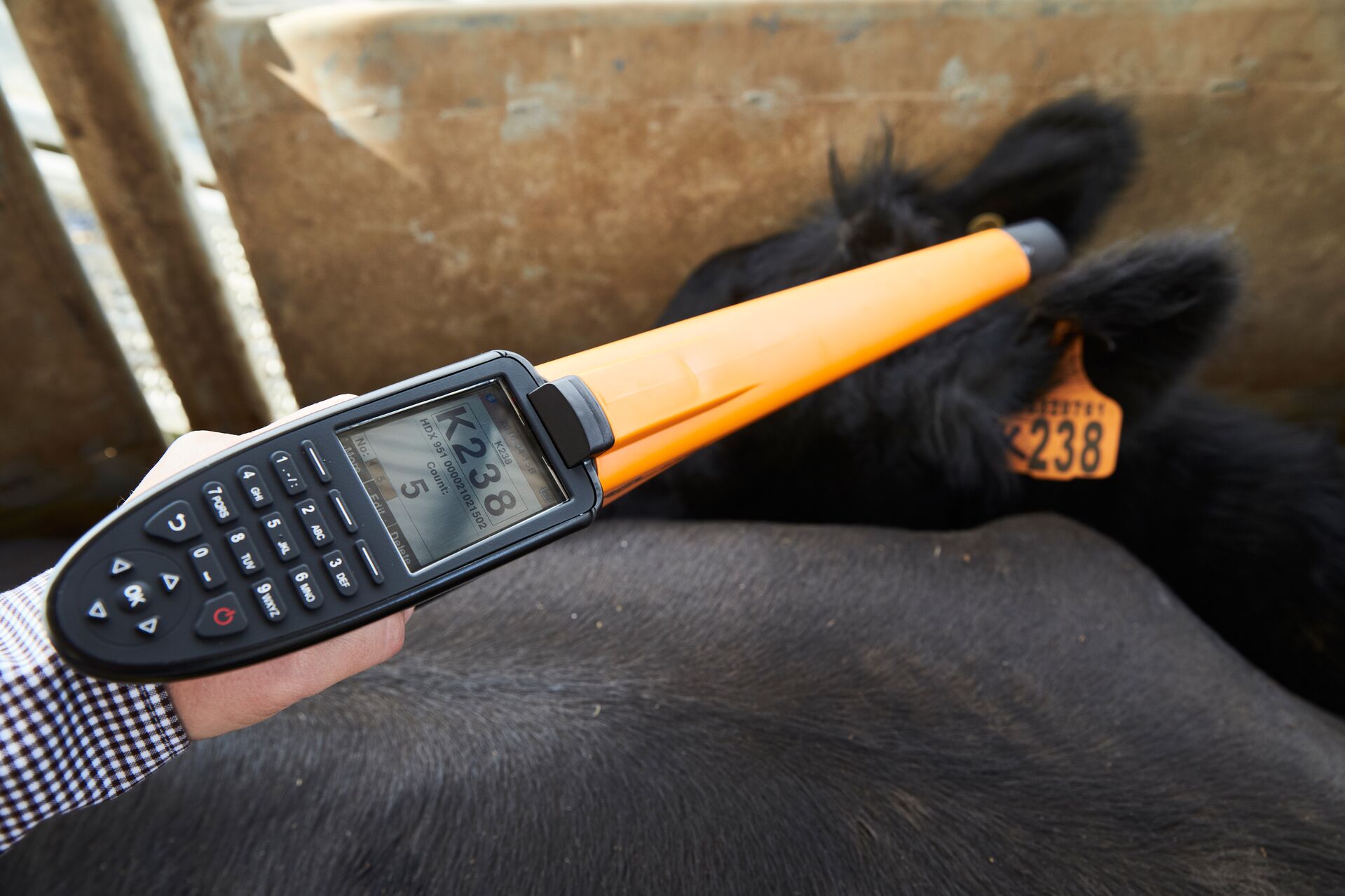 The decision
Wairarapa farmer James Beech is glad he didn't take any half measures when it came to EID technology. Early in 2014 he started looking for electronic identification (EID) equipment that would help him improve the efficiency of a heifer and weaner bull rearing business he and wife Stephanie run on their 320ha sheep and beef farm at Kaitawa, east of Pahiatua.
After talking to Gallagher Territory Manager Mike Ward at the Central Districts Field Days, James decided a TSi 2 Weigh Scale in tandem with an HR5 Hand Held EID Tag Reader and Data Collector would be the perfect set-up for him.

The TSi is an integrated weigh scale, computer and animal management system that analyses data and records stock weights with incredible speed and accuracy. The HR5 is an extremely powerful animal management tool that gives the farmer the ability to record, edit and customise livestock data on the spot.

"Before upgrading to the TSi and the HR5 I'd been using a pretty basic set of scales which only told me the weight of an animal and nothing else," James says.

"Initially I thought about going for something just a little bit more functional than my original scales, but then I realised this wouldn't give me anything like the benefits that the TSi and HR5 would. Now I can see all that crucial livestock information on a screen in the stockyards or out in the paddock."

Along with running a sheep flock and small Angus breeding herd, James and Stephanie also rear about 400 heifer and bull calves annually. Heifers are reared for the dairy market, with some sold as weaners, some sold just before mating and some sold in-calf. "This year we only reared 180, due to the dairy downturn, but last year we reared 320, James says.

Having so many heifers on board involves a significant amount of weighing and recording work. Up until he bought the TSi, James did most of the recording using a pencil and notebook. "Deciding which heifers we were going to sell was a major job. First we had to identify heifers by visually reading tags, then we had to link the right heifer to the right breeding records before we could draft them. Quite often that would involve multiple trips to the yards with a whole lot of different paperwork. And then it starts to rain!"
The Solution: Gallagher's Weighing and EID System
But all that has changed now because every aspect of each animal's breeding history and weight information is readily available through the TSi and HR5. "We can download a heifer's MINDA information to the TSi and then transfer it to the HR5, so we don't even have to be in the yards to access that heifer's weight and breeding information. That means we can make immediate decisions on which heifers we are going to sell."

James says the ability to accurately identify heifers and record information using the TSi and HR5 makes life much easier. "Drafting heifers used to take 2-3 people, but now I can do it all on my own in the same time. All I have do is load a drafting list into the TSi and the job is done. There's no paperwork, and it really doesn't matter if it rains."

Friesian bull calves are sold as weaners. "The TSi is great for them too because it gives me a weight report that tells me how many days it will be before they reach target weight. So that means I can give my contract clients a heads-up on when their calves will be ready."

James says both the HR5 and the TSi are very easy to use, even for someone with limited computer skills. "If I need to do something more complex, like manipulate a spreadsheet, I ring up Geoff Pooch at Gallagher Technical Support and he talks me through it. Nothing is a problem for Geoff and he makes it all seem so easy."

James and Stephanie are now planning to extend the use of EID technology to their sheep and breeding herd. "The TSi and the HR5 definitely add value to our operation and help us to make better management and marketing decisions. It's been a very worthwhile investment and it will pay for itself through time and labour savings alone."

Contact us
More information on our EID technology
"The TSi and the HR5 definitely add value to our operation and help us to make better management and marketing decisions"