Insulated handles for portable electric fences resolve frustrating niggle
Monday, 14 February, 2022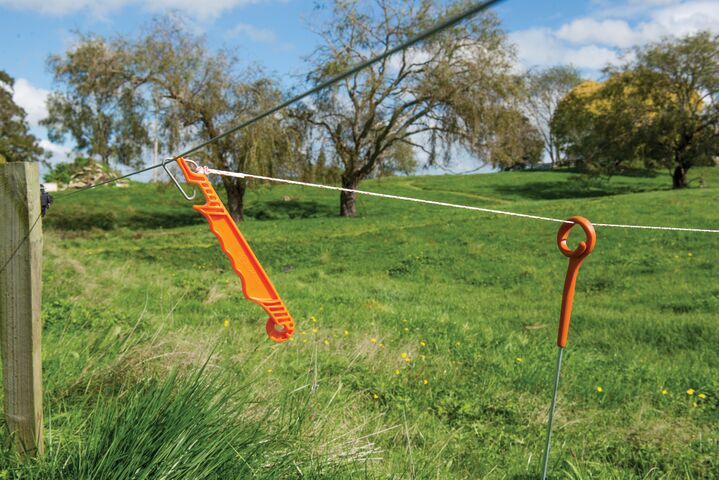 Less frustration with portable electric fencing handles
"We've been talking to farmers about their portable fencing products and a common problem that kept coming up when it comes to insulated handles was that they would occasionally detach from the permanent fence while the temporary fence was being wound out. This meant the farmer had to walk all the way back to the permanent fence to re-attach the insulated handle." says our Product Manager Graham Johns.
Solving the problem
To solve this problem, Gallagher's research and development team looked to the design of the Ring Top Post, which utilises a distinctive ring-shaped head to eliminate the risk of shorting and make it much easier to handle and erect fence standards. As a result the team came up with the Insulated Handle & Dual Purpose Handle to overcome a niggly problem that has bugged farmers for years.


"The connection hook locks the handle securely to the permanent fence wire, ensuring the handle will not "bounce off" during the deployment of the temporary fence"


Made from tough, insulated plastic, these handles can be attached to polywire or polytape using a simple loop. A streamlined design makes it easy to wind the handle in through pasture, and a large moulded hand grip avoids the risk of shock to the farmer.
The Dual Purpose Handle has extra connection points, allowing farmers to safely liven the fence from either the reel or handle end


"Farmers wanted the flexibility to be able to electrify the fence from the handle, so that solved another common frustration."

The Dual Purpose Handle can also be connected to wire or electric bungy cord to create a short fence or temporary gate.

Graham Johns says both products are designed to make life simpler and easier for farmers.
Other portable fencing innovations
"With other new innovations such as the S10 Solar Energizer, the Ring Top Post and the updated Geared Reel featuring a super tough gearbox and unique Transport Lock, Gallagher can now offer the most comprehensive range of user-friendly portable fencing products available."

Contact us
See all handles here
"Both handles are designed to make life simpler and easier for farmers."