Bidding On A Successful Future
Oklahoma State University program relies on the successful relationship between cattle, students and quality management tools
Saturday, 01 January, 2022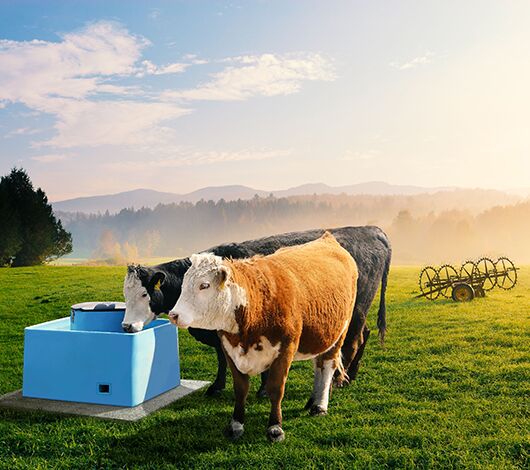 The Purebred Beef Center
Every April, cattle buyers can count on bidding high-quality purebred offerings while attending the Oklahoma State University Purebred Beef Center's Cowboy Classic Sale.

The annual production sale guarantees buyers superior animals representing a variety of cattle breeds and raised to garner top dollar.

Like most sales of this caliber, preparations start a year in advance and take a dedicated crew willing to put in the time and effort, not only because wages are tied to the work – but something far greater – the knowledge and experience gained during employment, as well as a commitment to the future and success of the program.

The Beef Center provides a unique educational experience to Animal Science undergraduate majors as it allows for a hands-on opportunity to work directly with purebred cattle and showcases the entire production, promotion and marketing process of the cattle industry.

The Purebred Beef Center is also unique as it's an independent, self-funded university entity that relies on its annual Cowboy Classic Sale to secure funding for the day-to-day operation and continuation of the program.
Employee Contribution
"Our student employees participate in every aspect of what it takes to own or work on a ranch and just like an owner or manager, they are vested in the success and future of the cattle operation," says Jeremy Leister, senior herd manager for the Purebred Beef Center.

"I rely on the employees to assist in the daily care and well-being of the animals, as well as the financial aspect of the business, including developing and following a budget and getting the animals prepped for the production sale. This is especially important as we get closer to sale day and the students put in more hours at the Beef Center while balancing their class load," says Leister.

As a junior majoring in Agriculture Business and pursuing a Farm & Ranch Management minor, Ben Kiner has worked at the Purebred Beef Center since his freshman year.

Kiner admits he has clipped and groomed a lot of cattle during his employment at the Purebred Beef Center but says the hands-on work with the cattle is just a part of the overall educational experience.

"I'll do whatever needs to be done to get the cattle ready for the sale ring or an upcoming show," Kiner says. "It's the additional value of applying a practical application to your classes that makes the program invaluable to our future careers in the cattle industry." "It's not just a discussion in theory," explains Kiner.

"Student employees are able to apply their coursework directly into their tasks at the Beef Center. My accounting class has assisted in the development and fiscal responsibility of our annual budget, and my ranch management class aided in the selection of the proper hay to feed during a recent drought. The Purebred Beef Center offers a one-of-a-kind opportunity that is going to greatly impact my future in the cattle industry and is a large reason why I applied to OSU."

Hardworking students who are dedicated to the workings of a purebred cattle operation is not the only component that makes the Beef Center's program a success. The center's commitment to utilizing reliable, quality and durable ranch management tools also plays an important contribution. "We count on the dependability and quality of Gallagher and Miraco products," explains Leister. "Especially when the students are out of school and I don't have as much help to assist with the cattle. I need to know and trust that our equipment is running, and running well."
Automatic Waterers Key to Success

Leister says the Purebred Beef Center relies on Gallagher fencing products as well as Miraco MiraFount Automatic Ball Waterers at its two campus facilities. "We use all Gallagher high tensile fencing to secure and protect our cattle," says Leister. "We have one unit that covers approximately 200 acres. I haven't seen anything that works as well."

Leister said the same can be said of the MiraFount Automatic Ball Waterers. Even during a couple cold spells, the watering units did not freeze. Like the fencing, it's less stress and low maintenance, he says.

Less stress and low maintenance allow Leister and his team the opportunity to focus on preparing for the upcoming production sale. "There's a lot of early mornings and long days ahead of us," says Leister. "But it's all worth it on sale day when the cattle look like a million bucks and the entire team can be proud of all the work they've put in to make the sale – and the future of the program – a success."
Contact us
"We count on the dependability and quality of Gallagher and Miraco products."