Gallagher helps baby rhinos thrive in South Africa
Thursday, 21 April, 2022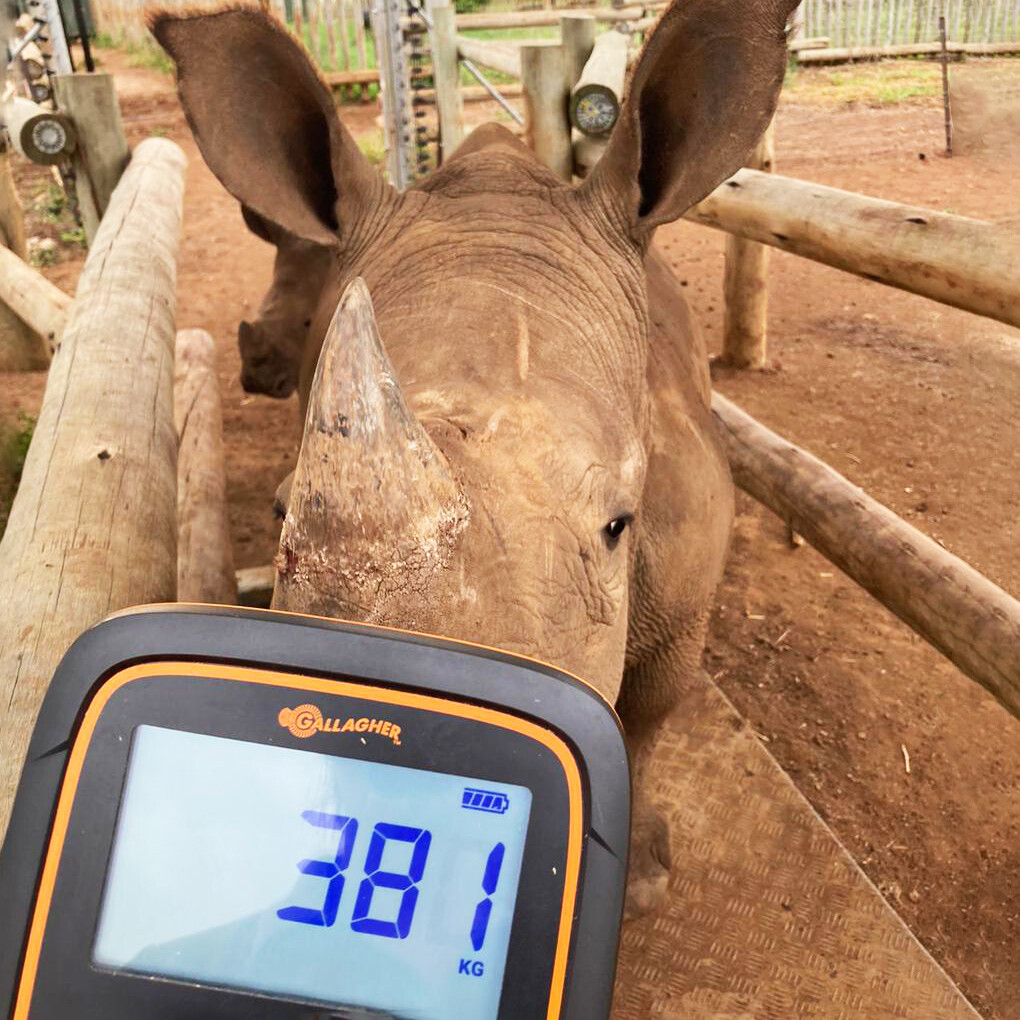 Raising baby rhino orphans at the Zululand Rhino Orphanage (ZRO) in KwaZulu-Natal, South Africa is both a challenging and rewarding job. The ZRO is operated by a dedicated team providing 24-hour care to the rhinos, raising them until they are healthy and strong enough to return to the wild.
A key piece of equipment the team uses to monitor the rhinos' progress is a Gallagher W-0 weigh scale. Once a week the rhinos are encouraged to walk over and stand on the platform to make sure they're healthy and gaining weight.
The ZRO is currently caring for two baby rhino orphans; Inkululeko (Leko for short) and Tweed. Leko arrived at the facility in April 2021. His mother had an infected tumor in her udder and she was unable to feed him. When he arrived, Leko weighed around 60kgs. A year later he now weighs just under 400kg. Tweed arrived at the facility in March 2022 after his mother fell victim to poachers. When Tweed arrived, he weighed 166kg. In just four weeks he has already put on an incredible 18kg.
"Weighing the rhinos gives us a good indication of how much weight they are putting on each week and in turn helps us to manage their milk and grass intake," says Simoné Marshall-Smith, Zululand Rhino Orphanage Manager. "The amount of milk they get daily is calculated as a percentage of their total body weight. We work off a weight chart so without knowing their exact weights it would just be a guessing game."
The rhinos are kept at the facility for two to three years, which is when they would naturally leave their mothers in the wild. Simoné explains that because rhinos are social animals that need companionship, they are bonded to other rhinos in the facility. "The orphanage aims to release them as a bonded pair or group so they have a familiar friend with them as they start their new lives in the wild," she says.
Since the facility was established in 2017 the ZRO has successfully released eight rhinos back into the wild. Gallagher's weighing equipment has become a key tool for the ZRO to help each of these rhinos on their journeys back into the wild and to preserve one of Africa's most iconic animals.
Contact us
"Weighing the rhinos gives us a good indication of how much weight they are putting on each week and in turn helps us to manage their milk and grass intake. We work off a weight chart so without knowing their exact weights it would just be a guessing game."