Time flies when you're having fun: Randy Bailey's 25-year milestone
Sunday, 09 January, 2022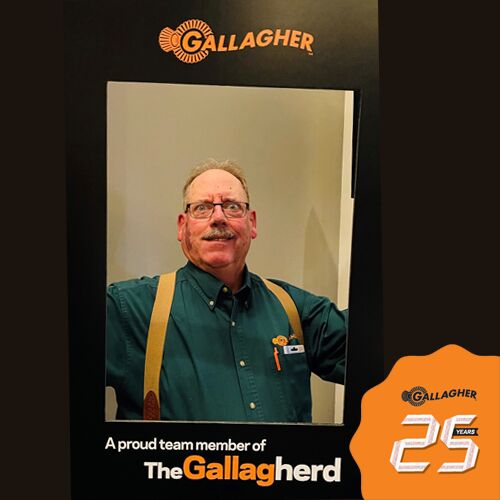 When our Territory Manager, Randy Bailey, started with Gallagher 25 years ago, he didn't imagine the progress the company would make in that time.
Originally from Champaign, Illinois, Randy moved to the West, where he spent his high school and university days. He attended California State University and graduated with a bachelor's degree in Animal Science.
It's safe to say Randy is a local these days; His wife of 26 years and their two sons have only moved 6 miles in that time.
After graduating university, Randy found himself working for a wholesale animal health business. They closed their doors, and Randy heard through a work contact that Gallagher was hiring.
With nothing to lose, he applied for the job.
Randy said, "I had no idea what the job was going to entail, but I needed one so that wasn't going to stop me."
After accepting the role, Randy became Territory Manager for the states of California and Nevada. Since then, he's also taken on the responsibility for Western Oregon.
That's an area of about 1500 miles (2414 km) high, and another 1000 miles (1609 km) wide.
"Back then, the list of products Gallagher sold could fit on a single piece of paper." These days, Gallagher's product catalogue spans hundreds of pages, and the solutions are technologically superior – quite a change to the product range Randy was selling 25 years ago.
"To give you some perspective of our growth over here, in 1996 our sales goal was $300,000 USD per annum. Now it sits at just over $1.5m USD (2.2m NZD)," Randy says.
When asked if he could recall his first defining moment with the Gallagher team, Randy recalled "I distinctly remember my very first field-day – It was the end of June, and I was headed out to the airport in Sacramento to pick up Kirk Yazel - Kirk oversaw all of Gallagher's North American field-days.
"We stayed in South Lake Tahoe, and it had snowed overnight. We tried to leave in the other direction and on our way, we were caught by a forest fire which blocked off the main road!"
Still determined to get to the field-day, Randy and Kirk kept pushing through.
"We travelled 300 miles across the desert and eventually made it. Unfortunately, we were met with water up to our ankles and had to build our fences in that."
Randy and Kirk had been quite literally thrown into the deep end. Nonetheless, they had a successful field-day and on their way back they both agreed on one thing:
"After being stopped by snowfall in the summer, a forest fire, driving hundreds of miles across the desert, and working up to our ankles in water, we both knew we were never going back to that place again!"
Although nothing quite like that has happened since, Randy loves his job because there's always something new to experience.
"It doesn't happen every day, but I have been to some really interesting places and had the opportunity to meet just as interesting people, and there's always new things to be done."
Randy has built fences to contain a variety of animals such as ground squirrels, elephants, and chimpanzees. He's worked in a range of places such as zoos, animal parks, and of course, the traditional farm.
In his spare time, Randy enjoys spending time outdoors, especially hunting and fishing. He also has a small herd of angus beef cattle which gives him the opportunity to use, and better understand, the Gallagher product line.
"It's nice to work for a company that has good people and good products. When you go and see someone, you're confident you can meet their needs. If I don't have an answer or a solution I can say, 'we're a global company – give me a day and I can find someone somewhere in the world that has definitely dealt with this before!'"
Congratulations to 25 years Randy!