Top 3 Reasons to Select High-Tensile Wire over Conventional Fencing
Top 3 Reasons to Select High-Tensile Wire over Conventional Fencing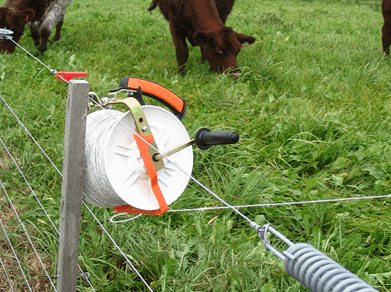 Article courtesy of Gallagher North America

"Consumers select electric fencing because it's cost-effective, easy to maintain and takes less than half the time to build compared to traditional fence systems," Merle Mohr, says retired Gallagher North America Territory Manager, "And because of the low physical contact, electric fences are far more durable and last longer."


Less Cost
Electric fences cost less than 50 percent of conventional non-electric fences, Merle explains. "That translates to roughly $1,000 per mile less than traditional fence. The cost savings can also increase to about 65 percent if you aren't picky about how 'pretty' the fence looks from the side of the road."


Less Maintenance
Also electric fence is a mental barrier for the animal, not a physical one, reminds Mohr. "The animal receives a short, sharp but safe shock that is memorable enough that the animal never forgets."So after the initial expense of constructing an electric fence is out of the way, there is less maintenance to oversee. "Of course there is some maintenance, but it is far less than traditional fence. Once an animal is properly trained, it will learn to avoid an electrified fence, which means your fence will last longer and remain in good condition," Mohr explains.
Works Great in any Application
High tensile fence will work well on any property, in any setting and for any application, says Mohr. "Any place you can use barbed wire, you can use high tensile fencing. It's twice as good as traditional fence and is a better value for your dollar. Plain and simple, it's just the way to go."
"Electric fences cost less than 50% of conventional non-electric fences."