Meet Bert & Ernie! New robots bring Ring Top™ range manufacture to New Zealand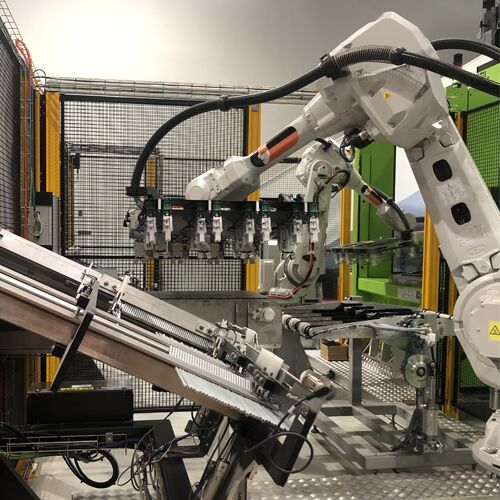 We have brought the manufacture of our RING TOP Post range to New Zealand with the commissioning of two new robots at our Hamilton headquarters.

Bert and Ernie are two hi-tech vertical moulding machines now manufacturing our full range of RING TOP Posts and Offsets, bringing their production from China to New Zealand.

Popular with dairy and cattle farmers, RING TOP Posts are part of our portable electric fencing range. More than 85 per cent of our total product offering is New Zealand made. Gallagher Research and Development Project Manager, Daniel Exton, said: "Our preference is always to manufacture in New Zealand if possible. The manufacturing process in China was manual and labour-intensive, so plans to bring the manufacture of the RING TOP range home have been in the pipeline for some time."

He says the move is also part of Gallagher Group's bigger sustainability drive. "We're now manufacturing these products right on the back door step of the very farmers who use them. With NZ and Australia being key markets, we have greatly reduced transport distances and improved our supply chain response time.

Affectionately named Bert and Ernie, the new robots offer more efficient and flexible manufacturing. The technology allows us to develop new versions of the posts and offsets and removes the challenges that come with intercountry communication.

The machines also have the capacity to produce other plastic over-molded products, which means we can also make improvements to products already on the market.

Daniel says the manufacturing process in China saw posts moulded one-by-one, while Bert and Ernie can shape four posts simultaneously. The robotic technology carries the posts to the first machine where the plastic foot is created, and then to a second machine which moulds the head.

"Direct manufacturing control was also important for us given the popularity of the patented RING TOP range design among farmers around the world," says Daniel.

"The demand for the product range has doubled since the release of the original RING TOP Post 7 years ago, so there is huge potential for further growth."

RING TOP Posts appeal to farmers because they don't get tangled like conventional pigtail standards and their super tough glass reinforced head will not wear through and short. Now they are New Zealand made, they tick all the boxes.

While the moulding machines were Made by Engel off-shore, the automation system to service them was designed and commissioned by New Zealand-based RML Engineering.