Gallagher Energizer Packs Plenty Of Power
Gallagher will unveil an exciting addition to its intelligent Energizer range at this year's National Fieldays.
Saturday, 01 January, 2022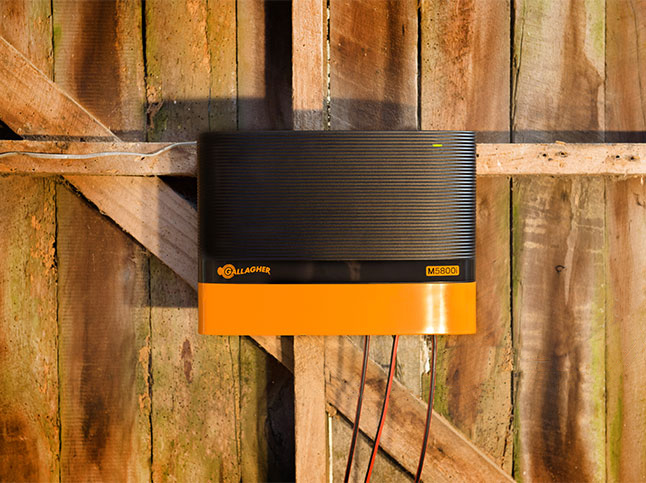 Gallagher Launch the M5800i
The company is launching the M5800i Mains Fence Energizer - a 'Big Brother' to the popular i Series Energizers (M2800i, M1800i and M1200i) which were released in 2012 and feature world–leading fence monitoring and fault-finding technology.

The new M5800i has all the advantages of the other i Series models but "provides a lot more juice", says Gallagher Product Manager Byron Arnold.

With 58 stored joules, the M5800i has the capacity to deliver plenty of power to the back of the farm where it is needed most. "It's perfect for any fencing system up to 240ha. Like the other i Series Energizers, it's designed to give farmers peace of mind that their fences are working at optimum levels and their stock are where they should be."

The key to the i Series system is the unique Energizer Controller which monitors Energizer performance and highlights any faults in the fencing system. Crucially, the Energizer Controller can be positioned away from the Energizer in a conveniently-accessed location where it is easy to view.

Fully waterproof, the Energizer Controller displays the Energizer's voltage and current readings and can be used to turn the Energizer on or off, set alarm thresholds and make fine-tuning adjustments to the Energizer's operational output voltage.
Energizer Accessories
The Fieldays special pack includes a Fence Monitor and a Remote. Positioned out on farm on your fence line, you can place up to six Fence Monitors in total to create a fully monitored fence system. Fence Monitors measure the fence voltage and current at the installed locations and send this information back to the Energizer. This enables the whole fence system to be checked from the Energizer Controller location – saving considerable time and giving farmers the confidence the fence is working effectively.
Remote and Fault Finder
The handy i Series Remote and Fault Finder enables the farmer to quickly locate faults within a monitored zone, turn the Energizer on or off remotely, and test a fence once a repair is completed.

Robustly built to handle the toughest of farm conditions, all i Series Energizers incorporate high-efficiency circuitry that delivers outstanding performance and stock control.

To improve functionality even further, these Energizers are available with a range of optional features, including the WiFi Gateway that enables fence performance to be monitored and controlled from anywhere with cell coverage. This means that if a problem with a fence is detected, the farmer is notified immediately via mobile phone.

Another option is an Alarm System that monitors a section of the fence, setting off audible or visual alarms if a circuit is broken.

Gallagher Marketing Manager Mark Harris says the M5800i is best in class for electric fence power units in the 50-60 Joule range. "The M5800i takes all the benefits of the tried and proven i series Energizers and packs them into a very powerful unit that is ideal for larger fencing systems.

"With features and power like this the M5800i represents excellent value and gives farmers complete confidence in the performance of their electric fencing systems."
Contact us
"The M5800i is best in class for electric fence power units in the 50-60 Joule range."