New energizers use any power source, anywhere.
Thursday, 02 May, 2019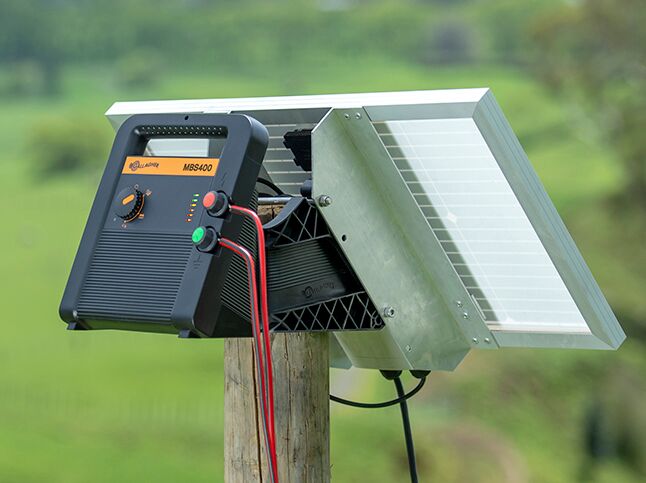 HAMILTON, NZ - Gallagher's latest range of fence energizers has taken flexibility to a new level, giving farmers three options when it comes to powering their units.
The MBS (mains, battery, solar) multi powered energizer range provides stock control up to 32 hectares, with models between 1 and 8 joules of stored energy. Each of the four energizers in the range opens opportunities to where stock is controlled and what power source is used.
Gallagher developed the range after close consultation with farmers about what they wanted in a truly flexible energizer. This included a need for greater power, reliability, portability and robustness in a single package. The power source flexibility of the MBS range means farmers no longer need to mix and match energizers to applications.
The units can be installed as a permanent mains-powered energizer delivering power to a defined area of the farm. The energizers have incorporated a simple LED bar graph which clearly displays fence voltage performance.
Farmers who have an unreliable mains power source also have the option of adding a 12V rechargeable battery to the unit with a battery back-up charger. The back-up charger, which is sold as an additional accessory, trickle charges the battery so that in the event of a power cut the battery kicks in to power the energizer providing peace of mind that your fence remains live.
The ability to power the MBS range with a battery also creates the option to use them for powering remote blocks or for strip grazing control where high power is needed, for example grazing crops and / or controlling sheep. The battery operating mode uses a smart battery management algorithm to protect the battery from being over discharged and damaged, and its status is easily checked on the same LED bar graph that provides a battery performance indicator.
Adding a solar panel to the battery setup completes the power source trifecta, leaving no part of the farm too remote to electrify. The easily installed solar kits come in 20, 40, 80 and 130 Watt options. Gallagher can advise the best energizer and solar kit combination depending on your farm location. The smart solar operating mode ensures that the energizer manages the batteries while maintaining the best stock control possible using the available solar energy.
The energizers incorporate the design and build quality that has made Gallagher the market leader in the electric fencing, and first choice for Kiwi farmers over generations.
Backed by a team of highly knowledgeable territory managers Gallagher offers advice tailored to every farmer's unique stock, farm and fencing needs to ensure the optimum fencing solution is achieved.