Gallagher Story | Gallagher Global
The Gallagher story really does start with a story – and one that illuminates the approach we still take today in designing brilliant solutions for our customers.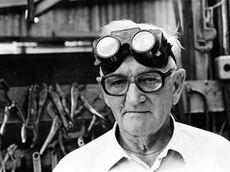 When a horse called Joe took too much of a liking to using a car as a scratching post, owner Bill Gallagher Senior scratched his head for a solution.

He devised a cunning electrical circuit that delivered a shock whenever the horse rocked the vehicle. This quickly cured the problem and sparked the idea for his electric fence invention.

That was in the early 1930s. By the end of the decade Bill had built his first electric fence and had made a long term commitment to building a great business that redefined what's possible for its customers – Gallagher.

In 1962, Bill Senior's son Bill Junior started working on the Gallagher shop floor. Moving up through the ranks, he helped us grow from a company delivering a visionary alternative to conventional fencing into one renowned for technologically superior, highly intelligent and fully integrated animal management systems.

Using our experience in electric fence technology, Gallagher successfully entered the security business. Gallagher Security has developed innovative perimeter security systems which, along with the access control and intruder alarm systems, form the backbone of Gallagher's global security offering.
Today, Gallagher is still lead by Bill Junior, now Sir William Gallagher, and we continue to win awards and accolades for innovative and transformational products across our businesses.