Ensuring Traditions - Gallagher Turbo Braid Protects Holiday Tradition
Growing trees is a long-term investment - Find out the story of Jude and Phil Wegman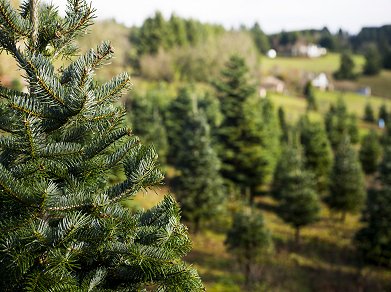 Most electric fences are built to keep livestock safely inside the fence boundary. But what if there is no livestock, just grass and trees? Well not just any trees, Phil and Judy Wegman have evergreens planted on 7 acres in Shawnee, Kansas. Evergreen trees - 3,000 of them, evenly spaced in straight rows that would make a drill sergeant proud stand stately in their appointed spot for 7 to 9 years until selected to grace the home of a family as their Christmas tree. The Wegmans own Midland Holiday Pines, a select and cut tree farm.
Have you ever thought about what goes into raising those Christmas trees that are the center of so many family gatherings? I haven't, actually Phil and Judy Wegman hadn't either before 1995.
The Wegmans began their venture planting seedings shipped to them from nurseries in Michigan. They raise trees best suited to dry, hot Kansas summers; Austrian, Scotch, White, and Virginia Pine. Continually striving to raise the best quality tress giving customers what they want the Wegmans also order cut tree from MI, NC and WI. Frasier and Balsam Fir, both very popular since they hold their needles well, do not grow well here, Wegman stated.
Christmas Tree Farm-Growing Christmas trees is a year-long job. "I didn't realize how much work was involved when we began." Wegman says. Growing trees is a long-term investment, trees that were planted in 1995 were first sold in 2002 after years of continual care.
Life on a Christmas tree farm goes something like this… After the holidays stumps from trees that were sold are removed. Planting of seedlings occurs in February and March, monitoring for disease and pests begin as things warm up in the spring.
Trees are sprayed when needed beginning in March and the summer long job of mowing around the trees begins in May. Seedling may be planted in the spring depending on the weather. Once the root system develops and trees are several feet tall they are well on their way to making great Christmas trees. The summer months are filled with constant mowing and disease prevention and treatment. June is tree shearing month.
Child with small Christmas tree in wagon"Each of the 3,000 trees on our 7 acres gets hands on attention; trimmed or staked. Many people are unaware the 'ideal Christmas tree' does not grow naturally cone shaped and full."
Fall brings changes to the tree farm. Trees are ordered that are shipped in and staff is lined up for the holiday season.
The farm is open for photographers to book photo sessions taking advantage of the natural beauty of the evergreens. With the advances in technology it is simple to add snow and special effects to photos says Wegman, real snow is not needed.
October is used to measure, price and tag all the trees in the field available for sale. Trees are sold starting at 6 foot tall as that is where Wegman feels he receives adequate return for the required hands on labor. Wreaths are made in November as the holiday season nears. Older tall trees that are not selected by customers are cut, boughs are used for wreath making and a spot is open to plant a new tree.
Loading a Christmas TreeWegman states Midland Holiday Pines is open Thanksgiving weekend and the following couple weekends. Hayrides through the pines where folks are educated about local history, hot cider, hot chocolate and the Christmas shop all add to the enjoyable family experience.
"Once a tree is selected, cut and brought up we shake all the dead needles out, net it and help folks get it tied to the car." Wegman chuckles, no doubt some have selected a tree that doesn't seem big out in the field but next to the compact car it appears to have grown a few feet. "It always works out although I am not sure how that happens sometimes."
When asked about the challenges of a Christmas tree farm Wegman said there was a learning curve at the beginning. Young trees are vulnerable to weather, disease and deer. The electric fence is to protect the trees for 'predation'. For the first several years trees would be bitten off at the top or pulled out of the ground by the deer. They would rub their antlers in the trees breaking boughs. The Wegmans had to make changes to protect their investment.
Gallagher
Turbo Braid
"I had heard that an 8 foot tall fence keeping deer at bay would be needed, but that wasn't feasible. I learned that deer didn't have great depth perception so we used that to our advantage. We added one strand of Gallagher's white, Turbo Braid (rope) about waist high that is electrified with a fence charger. Three feet inside that one wire we added two more strands, one high and one low. The deer come up to the fence investigate and get zapped. They learn to avoid it. We haven't had any trouble since we installed Gallagher fencing. The other challenge is simply helping customers get their trees bagged and tied to their cars as quickly as possible."
Christmas Trees"I have a whole new appreciation for the tree that will stand aglow by the picture window. It has taken seven to nine years of consistent attention to reach that distinguished position, the center of our holiday traditions."
"Folks are happy here," Wegman says. "We are not just selling trees, we are selling an experience. Coming out, enjoying a day with the family, selecting and cutting their own tree. More importantly we are honoring a tradition; enabling families to pass down a tradition to their kids, grandkids and great grandchildren."
Learn more about Midland Holiday Pines.
"We haven't had any trouble with deer since we installed Gallagher fencing."