Gallagher water monitor saves labour and days lost pumping
A 1600 hectare stud sheep operation was looking to signifcantly reduce labour from water runs.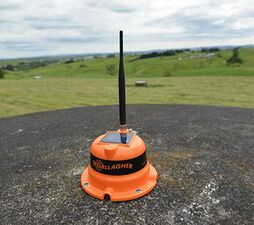 Sheep Operation Summary
Cassilis Park at "Wirroolga", 1,600ha at Cassilis, NSW Hunter Valley, Australia
1,000 medium-wool Merino stud ewes
Mega Merino stud (dual purpose) selling 100 rams (both studs) a year
Trade cattle
Solution
Wireless Water Level Monitoring system (1 tank unit, 1 display unit)

The Armstrong family runs several enterprises at Cassilis Park, including two Merino studs, horse agistment, horse oats and a performance-horse breeding program.

James Armstrong runs the sheep and trade cattle operation with his parents, Cam (the second generation to live at "Wirroolga") and Winks; while his sisters Emma and Annabel are involved in the horse side, which Winks began in earnest in the late 1990s.

James's great grandfather began the medium-wool Cassilis Park Merino Stud, which has a flock average micron of 19.1, in 1896. Then in 2009, the family began a second stud — Mega Merino Australia — in partnership with the Pienaar family in South Africa. This stud, with dual-purpose, 20-21 micron wool, has the sole marketing rights to Mega Merino genetics in Australia.
Control
With livestock a large part of the Cassilis Park business, James likes to have timely monitoring and control of all inputs — including water. He was also looking to reduce labour on water runs.

"They were the biggest issues: saving labour from an economic viewpoint and better using it elsewhere, and monitoring for more timely control of any problems as they arise.

"I discussed it with a couple of neighbours, and we looked at some wireless water-monitoring options ones; one of them required a phone plan, which wasn't warranted for our scale, but this one just seemed to suit really well."

James chose a Gallagher Wireless Water Level Monitoring System (WWLMS), which they use on their main tank.

"This is the control tank for three others. We can monitor the water in about 90% of our place from it. We've got the display unit in the kitchen and check it probably five times a day. We have a spreadsheet, and just write down the level whenever someone walks past it. You know how many percent it should be going down, so if it's quicker than it should be, we can find the problem."
Eliminating days lost pumping
James says while the main tank is only 500 metres from the house, two of the others are 5-6km away.

"And that's where we're saving. In summer, it was taking Dad and I about seven to 10 hours a week. In winter, it was only a quarter of that, but it was still valuable time. Not having to do those water runs let's us get on with more important tasks."
James says aside from the productivity in better labour use, is the efficiency of problem finding and time lost.

"When there's a problem, we're not losing time and water because we've picked up on it straightaway and can rectify it before it's a disaster.

"If there's a problem somewhere and we lose three tanks' worth of water, well that's basically three days' worth of pumping before we catch up. So with this Gallagher water monitor, if we see the tank level going down quicker than it should be, we can fix it before we've lost 10% of what we would have previously lost. And that's a huge benefit."
Expandable system
James says the unit is reliable and just does what it's meant to do.

"Where the main tank sits is hilly country; it's not transmitting line-of-sight, so we just got the extension aerial that can come with it. On our place this would be the hardest reception area, and it's working no problems.

"I've haven't needed to use tech support, but the post-sales follow up's been great. And being very conservative, I estimate the payback is six months easily."

James says when he was comparing different water-monitoring units, the Gallagher one appealed for several reasons.

"It's a one-off payment with no ongoing costs, so that was a positive. But also it's expandable. Our plans are to add a pump controller and another tank monitor. You can easily add that to it, to make it even more efficient. That was a good thing, you buy it and then you can keep adding to it over time."
Contact us
"When there's a problem...we've picked up on it straightaway and can rectify it before it's a disaster"