Twinkle of an idea saves vast amounts of time and paperwork
Geoff and Isobel run "Englewood Park", at Inverleigh in Western Victoria. Their Gallagher System is a game changer.
Saturday, 01 January, 2022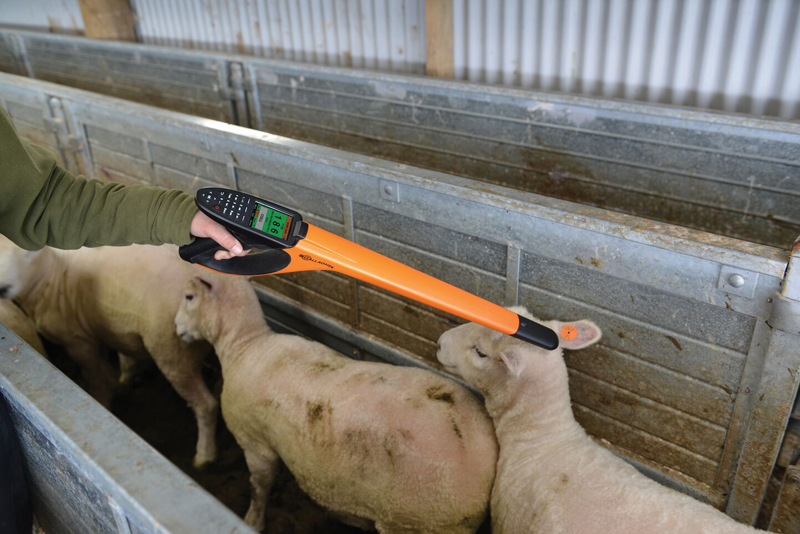 Background
Originally from Mansfield in North East Victoria, the Olivers moved south west in 1973. Geoff's father Ken, a fourth-generation farmer, had begun the Poll Dorset stud in 1956.
"My great-great-grandfather had Lincolns, then we had Southdowns, and then the Poll Dorsets."
The Olivers aim to sell about 240 Poll Dorset rams and 40-50 White Suffolk rams a year. They've also exported stud rams and ewes to several destinations, including New Zealand, Fiji, India, Peru, The Philippines, Thailand and Japan, and, since 2000, have been one of the major exporters of Poll Dorset stud animals to China.
Geoff says, "We visually appraise the rams for structural soundness, then Stockscan performance assess them to give us measurements for eye-muscle area, fat and growth. This gives our ram buyers information to assist them in their endeavours to produce the best prime lambs."
The HR5 Hand Held Reader
Last year they moved to electronic tagging, buying a Gallagher W810 Weigh Scale & Data Recorder with a drafting crate, and this year invested in an HR5 Hand Held EID Tag Reader & Data Collector. Initially using the WEID equipment in the studs, they have expanded it to the prime lambs as well.
The change was for several reasons, with accuracy and time saving heading the list.
Geoff says, "The other day it was fantastic. You can not only weigh them, you can quickly type in too. Because we were vaccinating, we just put that in the little HR5 Hand-Held Reader with the date, product used and batch number.
"You just go along and bang, bang, bang, you can record their tags in a flash."
"It eliminates any errors too. You find when you're reading tags, one after another, you can easily make accidental mistakes. You might read, for example, '369', but instead say it back-to-front as '396'. It's accidental — but it matters. With the HR5, there are no mistakes, it's so accurate. Your accuracy is tremendous. Moving to EID tags also means we can easily manage individual animal data. It gives us a way to very quickly identify the sheep that aren't producing and those that are."
Ease with Flockcare auditing
Geoff says being in Flockcare they're appreciating the accuracy and time saving.
"You're recording so much manually all the time, and we'd have to transfer it into the computer — at night, because you're in the paddock in the day — so it's all there when we get audited. But now it just goes straight into the computer off the hand-held HR5, and we can just bring it up. It saves a power of time and bookwork. That's a lot of time saving when you're doing a whole heap of sheep."
No time wasting
Likewise, the W810 Weigh Scale & Data Recorder with a drafting crate has also saved time and improved accuracy.
"We hook 90 per cent of our lambs, so we had an old set of scales, the ones with a 'clock face'. When you push a lamb into the crate, you've got to wait on the needle to stabilise to get a reading, as the lambs jump around a bit, so it takes a little while, and then sometimes you go to the nearest kilogram.
"My wife's a midwife, and she kept telling me how they weigh the babies on electronic scales. Anyway, quite a few years went by, but then we did it — for accuracy and quicker weighing of lambs.
"I used to have a little notebook, with columns ruled down. We'd take lambs 40 kilograms and over, so I'd write down 41-42-etc. across the columns and each time one hits that weight, I'd put a little dash with a line through on the fifth one to make it quicker to add up."
"But the scales actually give a readout of how many are in each weight bracket. So if I want to take lambs 40-45 kg, I'm not jotting anything down, we're just running them through, drafting off the lambs we want."
"With the Gallagher scales, we have the ability to draft our lambs three ways; for example, lambs over 45kg for export, 40-45kg trades, and under 40kg leave on their mothers for another week or two."
"And with the vendor dec you have to fill out all the time, down the track I don't think we'll even be doing that: we'll be just scanning the lambs and electronically sending off to the agent what the consignment is. That won't be too far away, I wouldn't think."
Weighty research
Before buying the WEID equipment, the Olivers did quite a lot of research — much of it at Sheepvention in Hamilton.
"I nearly bought some weighing equipment a couple of years ago, but I just didn't like the design — it was too awkward. So I put it on the backburner; it just wasn't quite what I wanted. That put us back 12 months, but it didn't matter, as soon as I saw the Gallagher one, with no external gates — just shut in and out on the front, and the slide on the side — the unit is so compact, that's the beauty of it. The design, I thought, was by far the best. You can put it in a race that's fairly tight, no problem, because the front and back gates just open internally. So when we saw that, we ordered one straightaway."
Quick sale catalogues
The Olivers also know they will find time savings from the HR5 in putting together their sale catalogues.
"Instead of having to read ear tag numbers and look up all the data in our books, and fiddle around to get the catalogue information, I have it all on that HR5, so I can just print it out. It makes it a lot easier this way. Again it's the accuracy and depth of data too. That EID tag that you scan has everything on it; there are going to be no mistakes at all."
Contact us
"With the HR5, there are no mistakes, it's so accurate. Your accuracy is tremendous. Moving to EID tags also means we can easily manage individual animal data. It gives us a way to very quickly identify the sheep that aren't producing and those that are."