Queensland nut orchard sees 5-fold yield increase with Gallagher Westonfence
Marco Prenzel knew he had a problem with feral pigs when he watched upwards of 50 cross in front of him in his driveway.
Saturday, 01 January, 2022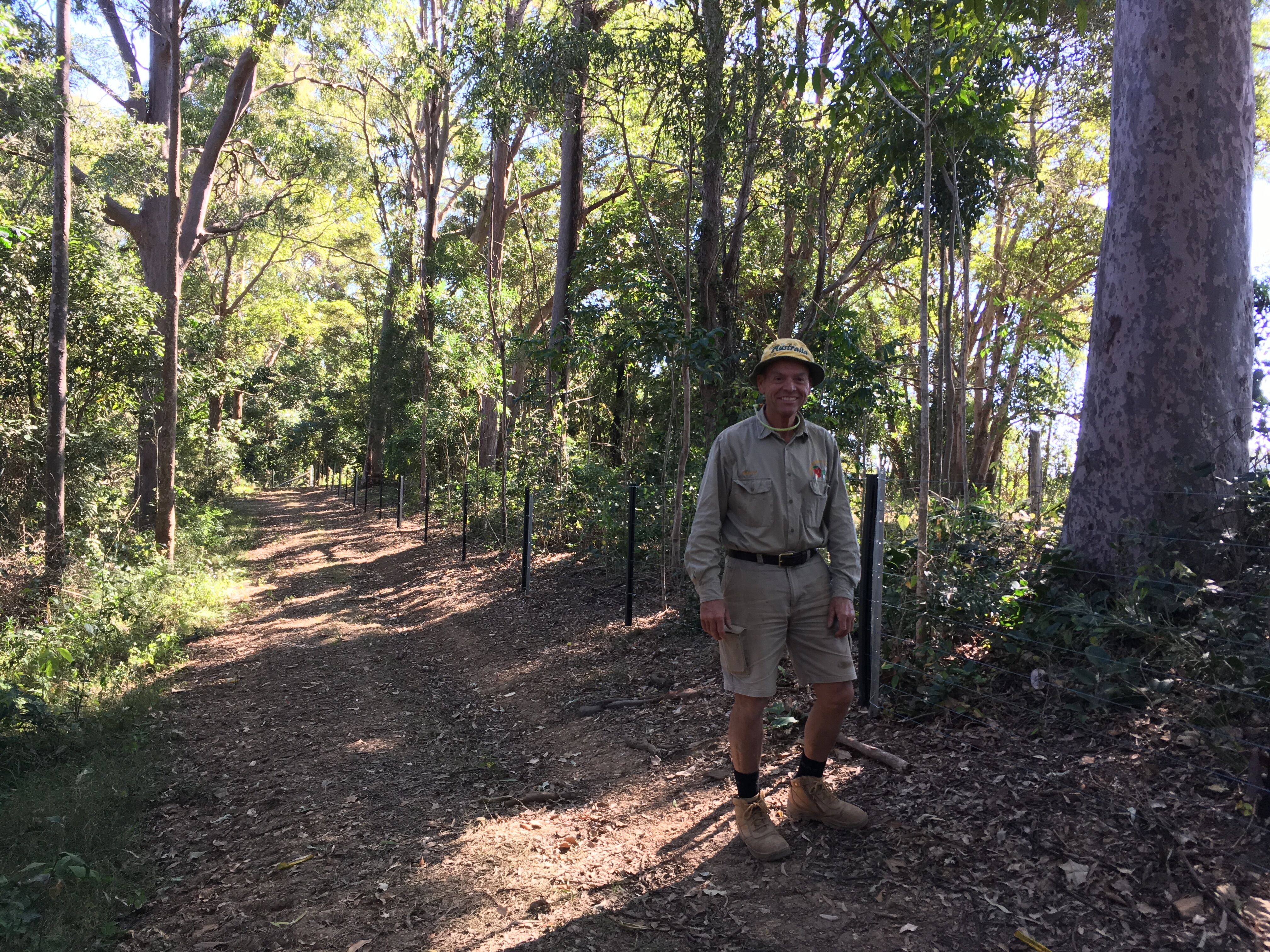 "We've had an ongoing, big problem for the last six or seven years, but I knew it was ridiculous the day I drove into my driveway and watched from piglets up to about 120-kilogram razorback feral pigs run across in front of me. It was probably 20 seconds, but it felt like 20 minutes. It was just unbelievable."
Marco has owned "Kareelah" since 1997. The 46-hectare property at Wolvi, 18 kilometres east of Gympie in South-East Queensland, has 20ha planted to 5,500 macadamia trees and a further 2ha under lychees. A little while ago, he re-established Australian Macadamia Nursery, an 80,000-tree commercial wholesale nursery, specialising in macadamias, avocados and citrus. For the past few years he has concentrated on other areas, including a construction business, with the orchard ticking away in the background. After deciding to refocus on it, Marco knew he would need to address the feral-pig issue.
"I really could not pick up the crop without having some sort of control measures in place. The nursery gave me the funding to put this pig fence up in March 2018. Because the orchard hadn't been a focus, we were only picking up about three to three and a half tonnes."
"Pigs are so efficient: they pick up the nuts better than a vacuum cleaner can. But what's worse is the younger ones looking for worms and grubs on the ground - they use their nose to dig a hole, probably six inches, or 150 millimetres, deep, and then throw the soil on top of the grass next to it. They do this all over the place, and the erosion they cause is probably 10 times worse than taking the crop away, because you really can't fix it on the steep country. So it's been a big issue."
Researching the best solution
"I made quite a few inquiries before I decided to go with Gallagher. I saw it on display at the Landmark store in Gympie."
"The only other pig fencing I'd seen is what other macadamia growers have put up themselves. Some of these are basic two neutral and one active wires, or two active and two neutrals. Some have put up a manufactured fence, like a dingo fence, at the bottom. That is quite expensive, and it really doesn't keep all the pigs out. I didn't believe this before, but if a pig wants to go through any fence, they can. It's quite amazing. They'll just run back and charge it. And with wire-mesh fence, they'll pull the wire out of the ground and go straight through if they want to."
While Marco looked at a couple of different fences, on suggestion he chose the D9 Gallagher Westonfence, which is the recommended exclusion fencing for feral pigs.
"Overall, it's probably one of the most wildlife-friendly fences there is, partly because they can see it."
Instant results
The impact was immediate.
"We jumped from three tonne to up to 16 tonne last year – and it wasn't a good year condition-wise for the crop. On top of that, the grass was way too high because I couldn't get up the hills to mow. So that 16 tonne was more like 18 tonne, after we lost a couple of tonnes – but if we didn't have the pig fence in place, I would have not picked up one nut because the pigs would have had it all."
"The orchard should produce anything up to 80 to 100 tonnes in a good year once I bring it back and with the pig fence."
Fencing to conditions
"Kareelah" varies from gently undulating to steep country.
"We hadn't installed fencing because it's such a challenging terrain. To get the Gallagher Westonfence in, we probably spent about 20% of the total cost on earthworks, just to make the ground more accessible. Although it was probably the worst conditions to put the fence up: we barely managed to get the dozer work finished then the rain just came in."
Marco emphasises that fencing to individual conditions is critical to create an effective barrier.
"The ground needs to be as level as possible, and then on steep hilly country like this, you may need to add more Insulated Suspension Posts or pickets. So follow the general recommendations, then adapt to the conditions. I found that was important."
Minimal maintenance design
"We're running a four-wire system, so four active and five neutrals, with one being the top wire, which is handy."
He says the fence's flexibility is "another big bonus as well".
"The fence is actually quite flexible because you've got the Insulated Suspension Posts, not rigid strainer posts every three or so metres. So if a branch hits it, once you shift the branch, the fence goes back to its natural shape. It's perfect. No damage has occurred. This has happened three or four times to me with a branch about 75 millimetres thick."
"It's great, because the flexibility of the fence keeps the maintenance factor down to a minimum as well."
Marco is powering the feral exclusion fence with a Gallagher M5800i Mains Energizer
"I can look at the Energizer Controller and see the voltage going through the system. The unit's plugged in near the dam, where there's a power source. It's about 200 metres from the house, so I can actually sit in the house, and see the colours are fine, and know everything is working properly."
"If there is an issue, say a voltage problem, I can just see the change very quickly. Then you can just close those points and pick up the problem straightaway. So it's pretty simple to fix."
"We've got in about 3.7km so far, which is three sides where the main pressure is. We'll do some more earthworks and then completely close it up."
A Gallagher Electric Fencing Showcase Day on "Kareelah" garnered some good interest.
"It was good and we had a lot of interest from Bundaberg. Some people couldn't make it, but they sent representatives to listen to the field day. I know a very, very large orchard going in, and when the day was finished, one of their representatives said, 'It's a no-brainer to see which fence to go for.'"
Dog free too
Marco says his Gallagher Westonfence has also been highly effective in controlling dogs.
"Dogs are a lot more aware of the fence than pigs are. Pigs can just handle the shock and run through it. Dogs, however, hate that sudden surprise of being hit – but neither comes through twice."
"I had a few dogs here in the beginning, – we had dingos within 50 metres of the house – but they're long gone since the fence. That's peace of mind for my animals here on the farm too, knowing they won't get attacked by dingos."
Increased productivity
Marco says as far as productivity is concerned, he's looking forward to getting his trees back into shape and building on this year's 16-tonne yield.
"Then when the next big crop comes up, I know the fence will keep the pigs out. It's a peace of mind. It really is. I don't have to rush around and pick up the crop. I can keep the grass super short everywhere because I know I can get there when I have time, because you can't just keep all the grass short all the time.
"This orchard is only myself, besides working in the nursery as well. It really needs one-and-a-half people, but I can do it well enough this way. And the fence has allowed me to just do what I have to do, and I know the pigs are not coming in. Day-to-day, there really is no maintenance. The fence works really well. It's made life easier for me."
Contact us
"We jumped from three tonne to up to 16 tonne last year – and it wasn't a good year condition-wise for the crop. On top of that, the grass was way too high because I couldn't get up the hills to mow. So that 16 tonne was more like 18 tonne, after we lost a couple of tonnes – but if we didn't have the pig fence in place, I would have not picked up one nut because the pigs would have had it all."