Only way to go - Gallagher Westonfence allows native pasture regeneration at Cobar
To "turn feed into meat", the Chambers family needed better fencing on their 27,000-hectare property, "Osterley Downs" at Cobar in Western NSW.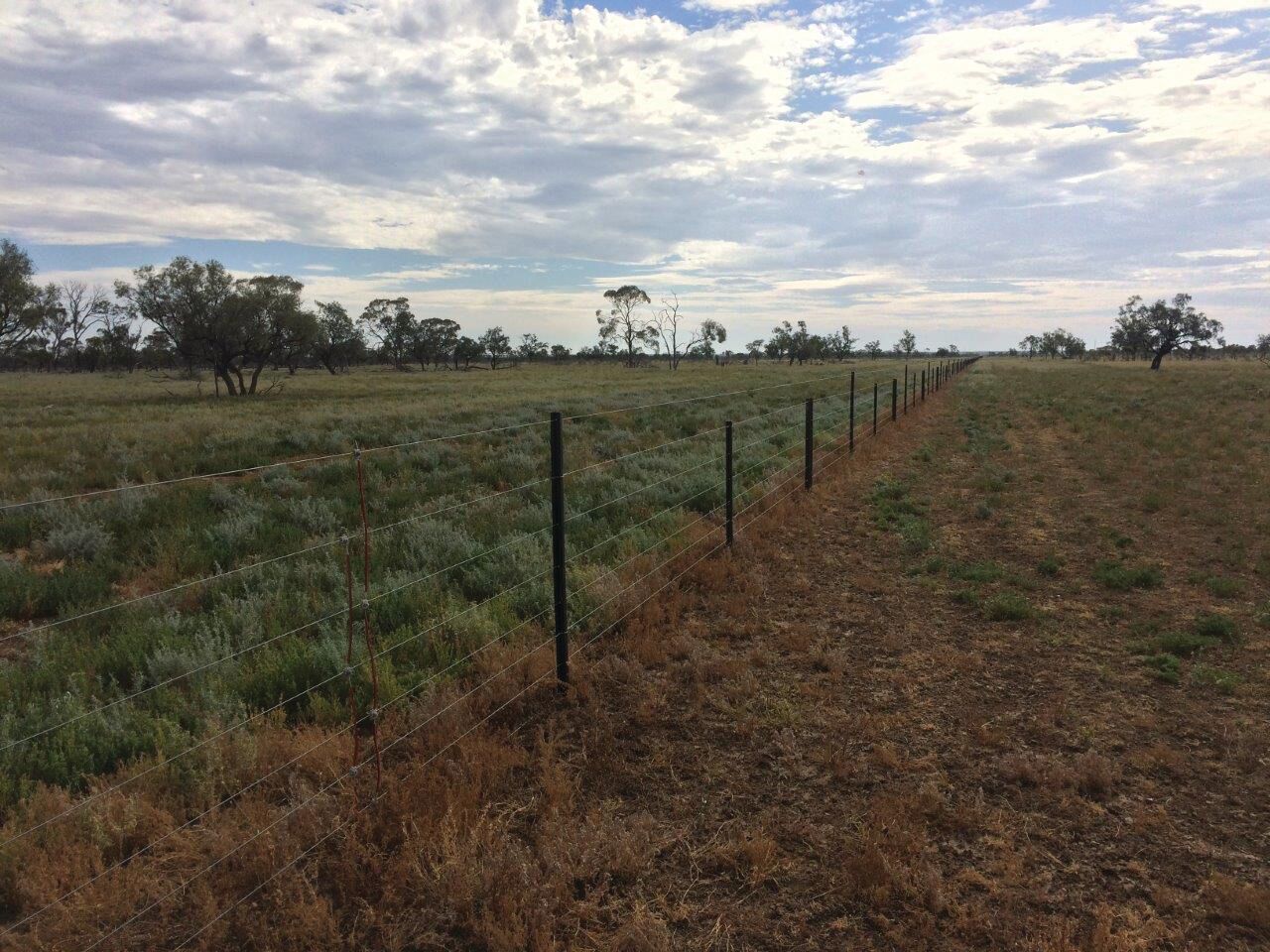 Robert Chambers said, "You can remove stock to let areas regenerate, but the roos and the goats would then just eat those areas out."
Robert and his wife Donna took over managing part of his family's property in the 1990s; then in the early 2000s, in conjunction with their daughters Erica and Prue, they began breeding Dorpers, starting with White Dorpers.
"What I like about Dorpers is that I finally found something that wants to live in this hard country," Robert quips.
Ewe numbers depend on the season.
"At the moment it's pretty dry, so we're only running 4,000 ewes. We sell lambs at seven to nine months, finishing them with grain. Dorpers just suit this country; we average 130% of lambs most years. We believe the meat is a better meat."
The family also opportunity crops in the right season.
"Most winters we put a bit of oats in, sometimes we harvest, but quite often we just eat that off. But if we get a big year we'll bury it: like 2016 when we buried 1,000 tonnes. Otherwise we buy grain in."
Goat proof and rehabilitation
"Our other enterprise at the moment is mustering feral goats. We do quite a few annually. We've got some fairly rough country and my ultimate aim in the next few years is to have it all fenced out — as in, goat proof. So far we've got about 30,000 acres [12,150ha] goat proof."
To fence, they'll continue using Gallagher Westonfence.
"Absolutely; it's the only fence to have – for feral exclusion and internal."
Having originally come from Ballan in Victoria's Central Highlands, Robert, who chairs Western Landcare and the Western Landcare Steering Committee which oversees all Landcare groups in the western division, was very comfortable with electric fencing.
"I've got three brothers-in-law that join us around, and they're mad on prefabricated and a six-foot post. Our adjoining boundaries are quite high, but it's a bit of maintenance — roos break the vertical pickets out of the fencing, and those sorts of things. I just didn't like that idea."
Simplicity a drawcard
When looking for alternatives to prefabricated fencing some 20 years ago, Robert came across Gallagher Westonfence.
"When I saw the [Gallagher] Westonfence I thought 'that's what we need'. I just liked the quality and simplicity. We find no maintenance at all, if you do it properly."
However, in an initial conversation with fence creator Peter Weston, Robert says he was adamant about rehabilitating their marginal country first, and fencing later — once they'd earnt some income from it."
"But he was telling me I should be fencing it first and then rehabilitating and watering it. He just smiled at me when I insisted on the other way. Anyway, it was a few years after I started to fence — just before we started the Dorpers — and I could see what he was talking about. Years later he said to me, 'Mate, you've come good!' He was right: you can fence really rough country and control stock; it works, and you produce."
Robert says they found Gallagher Westonfence very easy to put up.
But first they had to pull down what was there.
"We replaced all the fencing on this property after the 1984 fires; everything was burnt. It was all steel fencing, so we actually pulled down miles and miles of that to put up [Gallagher] Westonfence. But it's very good to put up. We built our own trailer; it's 11.5 metres so we don't need to cut wires on the 1,000m coils. Doing it that way means absolutely nothing slows us up. We put the ISPs [Insulated Suspension Posts] out and the coil runs out at the same time.
"All up, we've got about 150 kilometres of [Gallagher] Westonfence erected and going. That includes eight-line boundary [which is a D7 with a D8 every third post] for feral exclusion and seven-line [D7] internal. We've got another 100-odd kilometres to go, at least. About 30km of that will be 10-line [D10] that we're going to put on the western side, because a 10-line will deter dogs better. They tell us dogs are coming, so we're going to replace our western boundary in the next 12 months or so."
Most of the fencing is being powered by a Gallagher MX7500 Energizer and Gallagher MR5000 Energizer, with the latter bought when the Chambers family first began electric fencing. Both units run off the grid.
"Then in early February we set up a good solar system about 25km south of us, to power up another system we've got down there. That's got an M5800i Gallagher Energizer with an inverter on it. I went for the best solar system I could get."
In control
Robert said the Gallagher Westonfence has had a strong impact on the day-to-day management of their business.
"It allows us to improve our country out of sight. Without introducing select species, we've been able to recover lots of soft native perennials here that we thought were non-existent — mulga mitchells, panics, millet and mulga oats; they're all beautiful soft grass. We have predominant spear-grass landscape here. Whereas now we've still got spear grass, but we've got a lot of good, soft perennials mixed in there too."
"And that's what it's all about: what we're really doing is growing feed, and it just so happens that we turn it into meat. Our business is to try to grow feed and now we, as the managers, can control that, whereas before it was the ferals controlling it."
"We've developed this country and my overall belief is in looking after it, because if you look after your country it's an economic return to you."
Effective exclusion
Robert says the Gallagher Westonfence is an extremely good exclusion fence.
"I really believe that if you're going to put up a [Gallagher] Westonfence, put up a [Gallagher] Westonfence. Keep the specs roughly the same. It certainly works. People say you can't stop roos, and you can't stop this, and you can't stop that, but we've actually got some really interesting footage here showing the fence stopping pigs."
In fixing a fence, Robert accidentally trapped some feral pigs inside their property, leaving a large number on the outside.
"We free fed them for 10 days until we realised. The LLS [Local Land Services] environment officer came out and we 1080'd some grain and put some cameras up. It was really interesting to watch: the pigs that were trapped were watching the pigs on the other side getting free fed. Every lure they wanted was there, but they wouldn't even try going through the fence. The pigs on the other side were squealing and enjoying themselves, but the others just wouldn't even try to go through."
"Power is great stuff. It's just great stuff."
"It allows us to improve our country out of sight. Without introducing select species, we've been able to recover lots of soft native perennials here that we thought were non-existent — mulga mitchells, panics, millet and mulga oats; they're all beautiful soft grass."