Lamb production only possible with wild-dog proof Gallagher Westonfence
With just 40% lambing, Robert Scott needed fencing that would stop his property being "an ice-cream pot for wild dogs
Saturday, 01 January, 2022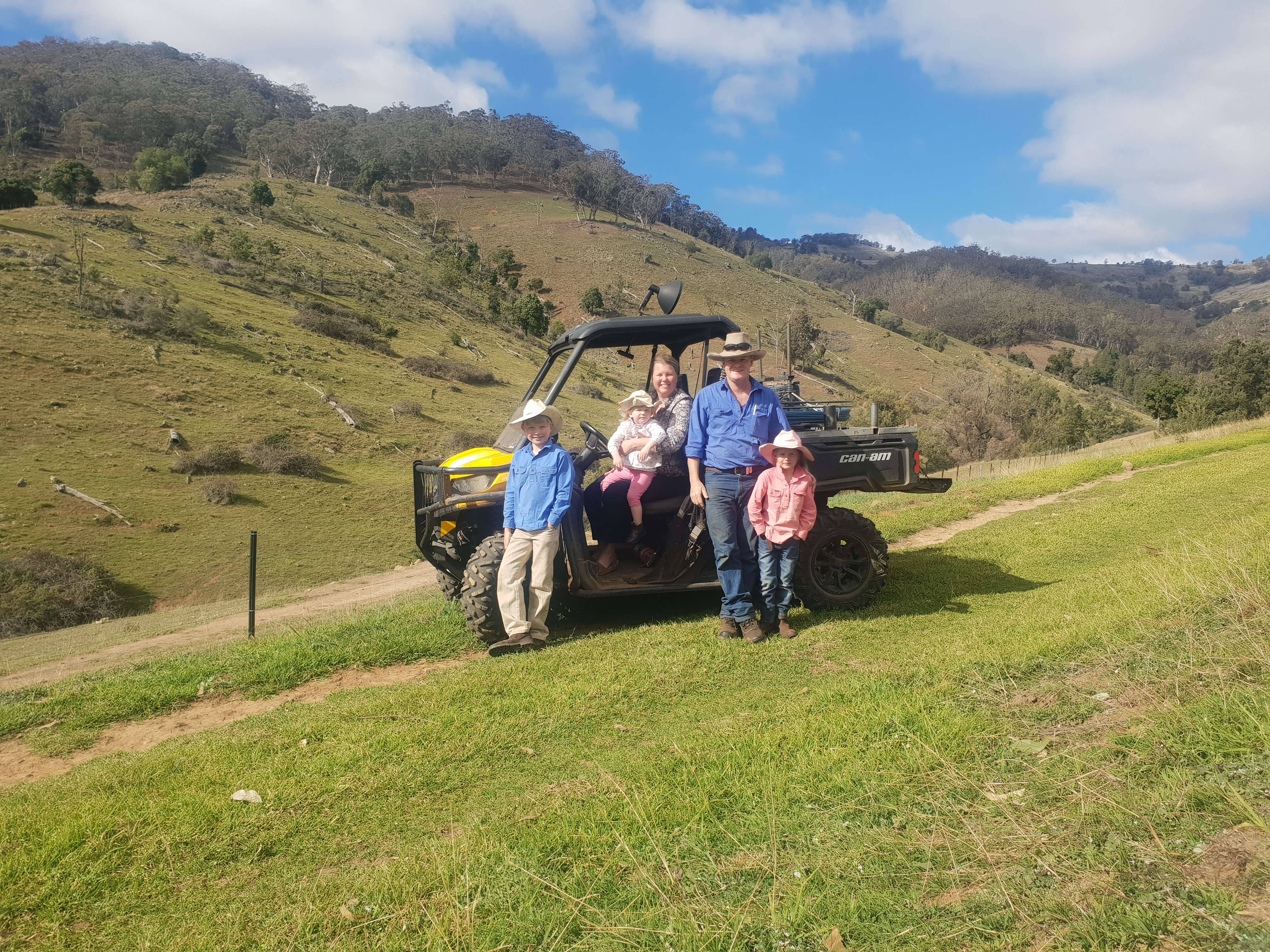 "When we first started running sheep, everyone said we're mad, and a few times I've thought we have been, just with the way the wild dogs are; 40% is absolutely terrible. It's not viable at that and we wouldn't pursue it if it stayed there, but we're starting to kick a few goals with the fencing; it's definitely a game-changer for us."
Earlier this year, Rob and his wife Lucy, began re-fencing a property they bought three years ago.
Having used Gallagher Westonfence on a goat and cattle property he managed atop the Liverpool Range in the NSW Upper Hunter for 10 years, it was the solution he turned to again.
Massive deer issue controlled
"We had problems with foxes and a massive deer issue there, being near the Towarri National Park. They'd just put in a lot of prefabricated mesh fences when I first started managing it, but we found the deer were absolutely demolishing those fences within about 12 months. It was obvious we needed to find a style of fence that could actually withstand the punishment and wouldn't be damaged by the deer.
"I read an article about [Gallagher] Westonfence; so we started off with some laneways and were very happy with it, so we kept using it internally and then for perimeter fences. It was just a very quick, easy and robust fence to put up, and the cost comparison was really good too."
Development mode
For the past few years, Rob has run Farm Easy, a farm-development consultancy that includes every aspect from farm mapping, planning and designing to installing, covering from water systems, through to paddock subdivision.
"I still do a bit of that, but I'm really concentrating on our own place now, which is why we needed to put in the fencing earlier this year. When we bought three years ago it was very run down; we ripped out every internal fence – they weren't worth keeping. Over 512 hectares, it's been a pretty major project."
While surrounding properties are mainly cattle, Rob says he and Lucy preferred sheep.
"This is a very steep block, and we couldn't have run cattle anywhere near like what we have with sheep through this drought. We've only got 500 ewes, but we're in development mode to get to 1,200. We're running Ultra Whites, which were developed in Western Australia by breeder Dawson Bradford. They're a stabilised breed of a quarter Poll Dorset, three-quarter White Dorper. We've also started to run a few goats as well; goat prices are an incentive, but they're mainly to eat weeds – blackberries."
Versatile solution
Rob has redesigned the entire farm and put in a central laneway; all internal fencing is Gallagher Westonfence.
"I'm very much a fan of cell grazing: you need country locked up to take advantage of that rain when it does come."
"On the boundary there's some prefab netting, but I'm having to put offsets – like tripwires – on those fences because wombats dig under it, which lets other animals through and then the sheep start going out. But that's the beauty of the Gallagher Westonfence: you don't need tripwires, that fence on its own is enough.
"There's an eastern boundary where it's almost like a national park, and we've got dogs coming out of that side, so I'm thinking of putting an exclusion Gallagher Westonfence there, just for that reason."
Another drawcard for Rob with the Gallagher Westonfence is its versatility.
"That's one of the biggest things, and that's what I tell people: it's such a broad range. Once the [Gallagher] Westonfence is in, you can run anything. We've put in the D7, with every second wire hot, so three hot, four plain. Right now we're running goats and sheep, but as far as I'm concerned it's such a good fence because you can run cattle, sheep, goats, or free-range pigs for that matter. So you can develop your operation, and down the track your enterprise is not limited by the fencing, hence you can take advantage of trending prices, depending on the season."
Powerful results
Rob has set up cameras to help pinpoint where the wild dogs are coming in.
"Because everyone's gone into cattle the last 20 or 30 years, they haven't worried about the dogs too much, so the wild dogs were coming in to our place from everywhere. But in the areas where we've fully done the perimeter with Gallagher Westonfence, there's no sign of dogs. It's definitely working. I've got dogs on camera right next to paddocks where there's lambs and they haven't touched them. This lambing, we're hoping for a minimum of 100%."
"We're doing everything we can with the dogs – we've even got a couple of donkeys we're playing around with – but I think the fencing is going to be the main weapon."
The Scotts are powering the fence with a Gallagher M10,000i Fence Energizer
"It's amazing, we're getting up to 15,000 volts, five kilometres from the unit. I've just never had a fence with that much power in it; it's terrific. And it's not only stopping dogs – it's stopping kangaroos coming in too. You can just see in the paddocks that are locked up, we're actually growing feed. It's definitely working.
"That's the thing with the power, it extends the life of your fence. People may whinge about power, but if it's set up properly, it's fantastic. It's important to set the system up properly from the start – how you lead out, earthing … just things like that. And these units today are just terrific. There's the little Energizer Controller in the shed to let you know what's going on, and you've got your different zones with the Fence Monitors. Every morning I come out and check the Controller, and you know if there's a fault, you can go straight to that area instead of chasing it."
Low maintenance
Rob says electric fences "are only as good as the effort you put in to keeping power in it".
"But we're just finding with this M10,000i Fence Energizer, we're not getting many faults at all. The only spot is in those tripwires where there's a bit of old netting on the boundary if something has pushed through and a flap of netting is sitting on top of the tripwire."
He says the Gallagher Westonfence construction also contributes to reducing the likelihood of faults.
"That's the beauty of the Gallagher Westonfence: there's just nowhere really to get a fault, it's just such a good system.
"And because we've got that high power – that 12,000-13,000 volts, we don't have to spray the fence lines. The amount of people who say 'you've had to spray your lines', but I haven't touched it; it's just the power burning through the grass.
"I've been using Gallagher forever; I can remember my father using Gallagher fencing because we had goats, so I grew up with it. Gallagher's a well-known name with electric fencing, and now with the Westonfence, it's just such a great product."
"In the areas where we've fully done the perimeter with Gallagher Westonfence, there's no sign of dogs. It's definitely working. I've got dogs on camera right next to paddocks where there's lambs and they haven't touched them. This lambing, we're hoping for a minimum of 100%."