Gallagher exclusion fence protects farm surrounded by national park from deer
If Geoff Buttenshaw was still farming in Central Western New South Wales, there's only one type of fence he'd use.
Saturday, 01 January, 2022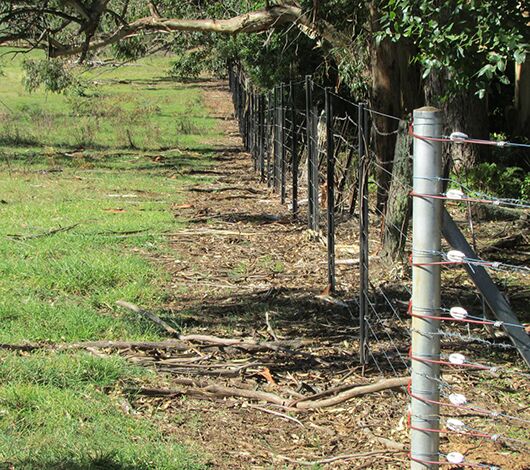 "We had 6,500 acres [1,605 hectares] out west, so there was a bit of fencing around that. I said the other day that if I still had my farm out there, I wouldn't be putting up any other type of fence now except Gallagher Westonfence. When you're surrounded by hills, kangaroos and pigs, you need something good for exclusion to save crops and pasture."
These days Geoff helps out managing a couple of farms several hundred kilometres east, in the NSW Southern Highlands. There aren't any pigs, but kangaroos and deer are a huge problem from the adjacent peaks and gorges, eating out a lot of pasture.
He's been running one farm at Fitzroy Falls for about three years. "It's 265 acres [107ha] surrounded by national park."
The property, which he and the owner are improving, runs Angus cows and backgrounds trade steers.
Having looked into exclusion fencing, they chose Gallagher Westonfence.
"I'd done a bit of research over the years. Technologies have changed: a two-litre turbo engine does the same thing as an old V8, but more efficiently. It's similar with fencing.
"The Gallagher Westonfence is economical and competitive with a good stock-proof, pre-fabricated fence, and electric fencing is unquestionably the way to go here – particularly with extreme pressure when you're fronting national parks."
Preserving pasture
Geoff had George Lang, of White Dog Industries, erect several kilometres of boundary fence.
He used D8XL Insulated Suspension Posts, with five live wires and three earth wires at standard 3.3 metre spacing, narrowing the spacing over undulations.
"I like a little bit of extra height when I'm doing exclusion fencing because it keeps the bottom wire 125 millimetres off the ground. Then when there are younger breeding or trade cattle, the top two wires can both be live to deter those shorter cattle from trying to put their head through.
"If you think that the DSE of a roo is 0.65, then 10 roos are eating as much as a cow. It's quite a loss in your paddock. The other thing is paddock damage. Another concern on this property was running stock on paddocks with a lot of holes. It doesn't take much to lose a calf, or for a cow to break its leg."
Ultimate fence control
The Fitzroy Falls farm is powering its fencing with a Gallagher MBS2800i Fence Energizer. Using four Fence Monitors has allowed them to section up the boundary fence into manageable quarters to keep track of what's happening. Geoff says it's particularly useful having put them where they knew the initial pressure points were.
"They're sectioned off for ease in case something happens, but we haven't seen a scratch under the fence."
He says checking the fence via the Energizer Controller is easy – "just look in the shed".
"You can see it ticking away – one, two, three, four – then you can tell immediately if one of the sections is not right.
"The whole fence is pretty low maintenance. In fact, I'm quite surprised at how little maintenance the fence requires. If there is a problem, the Controller will tell you which way it is, and then when you're there, you can turn the fence off without having to go back to the Energizer."
He says once the repair is made, turning the fence back on – again with the push of a button on the i Series Remote Control & Fault Finder – makes the whole operation simple and saves a lot of time.
Excellent barrier
George Lang says unlike a traditional fence, which animals can pressure and then break, the Gallagher Westonfence "is just a lot better system".
"It is an incredibly good product. I've even seen trees come down over the top of it; it was just a matter of clearing the trees and straightening the Insulated Suspension Posts back up; no wires were lost."
And he says the Gallagher Westonfence is easy to put up.
"I'm pretty well set up for it: I have a Kawasaki Mule and run four spinners on the back for a roller system. On really big jobs, I might use somebody else with me, but otherwise I find it quite easy by myself."
Geoff Buttenshaw says, "This fence has excluded everything; there is nothing inside on the farm other than the cattle. Before, I used to see a hundred kangaroos and 20 or 30 deer at a time. Now, they're just not there.
"We have a 60-inch [152mm] rainfall, so we grow pasture well, but now there's a lot less pressure on the it; it's there so we can grow cattle.
"I was talking with a fellow the other day who's surrounded by scrub, and kangaroos are just decimating his garden and pasture. I said there's only one way we can ever get this property right, and that's to put an exclusion fence on it. I'm amazed at how well this Gallagher Westonfence works. It's quite revolutionised my thoughts on fencing."
"I wouldn't be putting up any other type of fence now except Gallagher Westonfence. When you're surrounded by hills, kangaroos and pigs, you need something good for exclusion to save crops and pasture."