Gallagher Westonfence saves 2 months of cattle feed from high roo pressure
Despite not having grazed their back paddocks for six months as part of their normal rotation, Sam Johnson said the area "looked as though we'd had a mob of wethers sitting on it".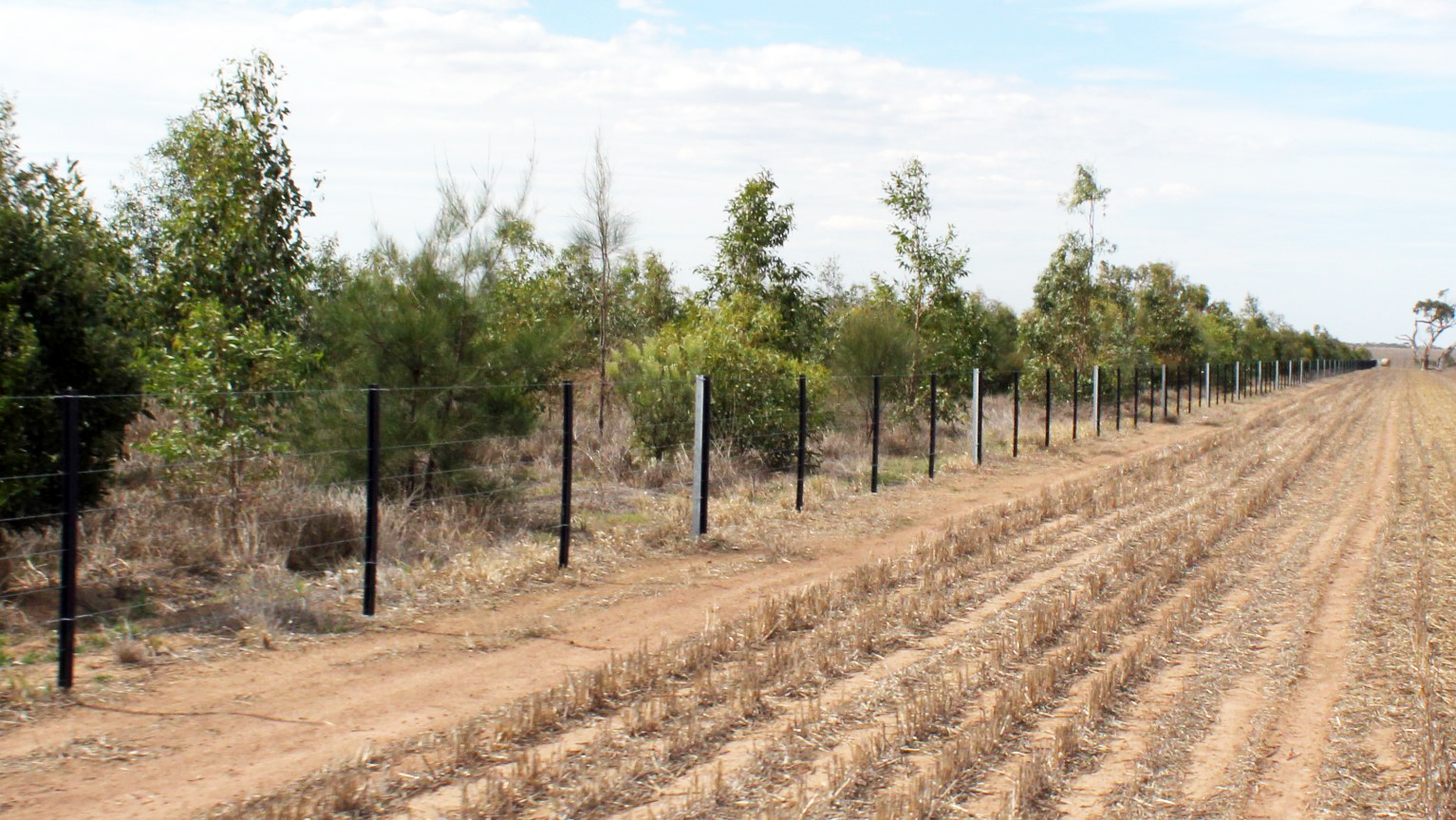 The Johnson family farms at Murringo, near Young, in the NSW South West Slopes region.
"When we took a mob of cattle out there, they said, 'What are we going to eat?'! We'd just had hundreds and hundreds of roos sitting there."
Third-generation farmer Sam, who grew up on the property, farms with his wife Claire and two of their adult children Sid and Molly, as well as Molly's husband Tom, who are proudly fourth-generation farmers on the 1,500-hectare "Windermere".
The Johnsons have 220 Black Angus breeders and a 20-sow, free-range pig operation. The pig enterprise is based on the older Berkshire and Hampshire breed genetics, with the Johnsons finding they do better and produce better quality meat than the intensively suited commercial breeds such as Landrace.
Regenerative agriculture
Sam and Claire have been managing "Windermere" since 2002. Their management philosophy focuses on increasing the property's biodiversity and the landscape's biological health. Sam says they consider themselves "gardeners of the landscape" using tools such as "water pipe and electric fencing, cattle and pigs and all the plants and biological life we can encourage…. with the aim to produce fertile, biologically active soils, a tapestry of wildlife and native species, and excellent, healthy food".
In 2010, they moved away from commodity markets. They now produce and market grass-fed beef and free-range, pastured pork to customers locally and in Canberra under their "Boxgum Grazing" brand. (So named for the property's grassy box gum woodlands.)
The driver, says Sam, was for their produce "to go direct to people who want excellent food and are sick of the industrial food system and understand the vital connection between healthy land and healthy food".
All eaten
Also part of the Johnson's philosophy is generating a real income from their multi-generation business.
And that means "no free feed".
"Windermere" is surrounded on three sides by a conservation area. While this gives them very beautiful scenery, they've suffered increasing pressure from kangaroos, particularly over the past couple of years.
"Our records go back a fair way; we looked at what the roos were doing and how much feed they were taking out from the mob of cattle, and in assessment comparisons with years gone by, they were taking out at least two month's worth of feed for a mob of 500 or so animals."
"We looked at various options of what people had done for roo fences, and most of them involved different variations on high fabricated fences."
Fabricated fencing not holding
So the Johnsons put up a fabricated boundary fence; however they soon discovered it didn't hold the kangaroos.
"They just go through it, over it and under it."
"A few years ago, at a holistic management day in Dubbo, we saw a Gallagher Westonfence display. We really liked the concept, and thought if we ever have an issue with the roos, this is what we'll do."
With the not-very-old fabricated fence failing to hold against the roo pressure, the Johnsons investigated Gallagher Westonfence a bit more, including visiting farms that had Gallagher Westonfence kangaroo boundary fencing.
"We realised having had the fabricated fencing, and looking at the other versions of a higher fabricated fencing, that height on it didn't solve the issue of the roos trying to go under the fence — which is where the main pressure is."
Deconstruct, then reconstruction
After further investigation, Sam says he decided rather than just putting an outrigger on, it would be better in the long term to replace the fabricated fence with an electrified eight-wire D8 Gallagher Westonfence.
"So we actually had to deconstruct that fabricated fence between us and the national park and then put the Gallagher Westonfence up. It was extra effort, but it's certainly worked."
After consultation with Gallagher, the Johnsons decided to go with their advice to decrease steel post spacings from the recommended 10 metres to 9 metres and the Insulated Suspension Posts (ISPs) from 3.3m to 3m, holding them with the recommended two clips per ISP. They also chose a heavier-gauge 2.8 wire.
"We talked about it and thought for the little bit of extra cost, it's going to give us a more solid fence — particularly as we have a bit of undulating country, whereas on a dead-flat run, you could push the posts out a bit further."
Powered by solar
They also chose a Gallagher M5800i Energizer, running on solar.
"It's a remote location — the Energizer's about four kilometres from a power point. We have four 80-Watt solar panels and 600 amp-hour storage in deep cell batteries.
"The electricity from these big Energizers certainly is what makes the difference. There was a fair bit of pressure on the first sections we put up from roos that are used to certain pathways. But once we got over that initial pressure, there really doesn't seem to be much pressure coming in onto it, which is great. Once they learn about it, the message seems to get about. We're certainly not seeing the pressure in those areas where it had been quite for a while."
Choosing quality on knowledge
Sam says while they researched the Gallagher Westonfence, they didn't look around for Energizers.
"We've used Gallagher Energizers for years and years. We tried another brand a while ago and thought they were no good. So we went back to Gallagher because we don't have trouble with them. We use portable Gallagher Energizers with temporary electric fencing for our pigs. We've got a lot — probably about a dozen small Gallaghers for that enterprise that are run either as solar or off batteries. I wouldn't go near those other Energizers again."
Easy construction and strong
Sam says once they learnt the method to construct the Gallagher Westonfence, it was easy.
"We talked to the people at Gallagher and we're very happy we used the heavier-gauge wire — the 2.8 — they suggested, too. The advice was that if we were just keeping in sheep and cattle, then go a lighter-gauge, high-tensile wire, but because we're getting high pressure from roos, the heavier-gauge wire is worthwhile because we won't break it.
"Even early on, when the roos were getting used to the fact that it's live and trying to go through it or crashing into it, we've never broken a wire — and there have been plenty of times there's been a lot of pressure on there. Those droppers don't move either.
"The fence is interesting; it's got quite a bit of flexibility, but rigidity as well, if you can have that."
Extending
"We've been so happy with the boundary fence with the national park that we're continuing it on with the neighbour's boundary too, because we're getting a lot of roo pressure from there. In total the fence will be 9.5km. The national park has put up some exclusion zones in their areas neighbouring us, using high fabricated fencing, and even though the roos can't go over it, they are trying to go under it like crazy. So that hasn't really solved the issue.
"We thought we could manage the roos, but the numbers coming through from the park were just ridiculous. They'd eat the park out and then come through into our country and we were just getting swamped."
Result worthwhile
Sam says despite the cost of taking down a relatively new fabricated fence, the outcome has been worth it.
"We looked at what the roos were costing us in terms of feed: we were losing two months of grazing straight out, but probably the biggest impact is that because the roos are set stocked on the country, they actually stop it growing and will knock the perennials out. That cost is hard to quantify, but it's certainly there.
"We think this Gallagher Westonfence will pay for itself quite quickly. It's a cheap way of growing more grass, basically. The whole lot, as we were advised and chose, works. We're very happy with it."
"We think this [Gallagher] Westonfence will pay for itself quite quickly. It's a cheap way of growing more grass, basically. The whole lot, as we were advised and chose, works. We're very happy with it."