Gallagher TWR-5 allows accurate and detailed livestock management
Having the ability to manage livestock accurately was one reason Charvel Grazing wanted the TWR-5
Saturday, 01 January, 2022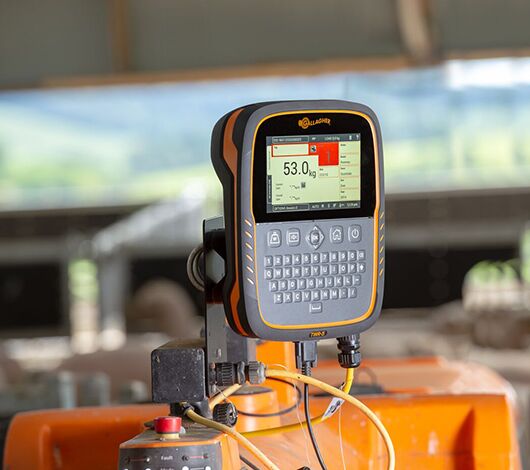 TWR-5 Weigh Scale a Family Favourite
Charvel Grazing is run by the Hewitt family, who have been farming in Queensland's Dawson Valley since the early 1900s. The mixed operation comprises 1,500 breeders and progeny, with the commercial herd including Herefords, Santa Gertrudis and Angus; they also crop wheat, mung beans, chick peas, oats, sorghum and fodder on 810 hectares (2,000 acres), and annually bale and sell wheat, oat or grass hay.
Fourth-generation Fraser Hewitt says they grow the weaners out on oat crops, then sell them into the feeder market, with a small number kept on pasture to be sold as prime cattle.
Looking for a new weighing system, the family came across the Gallagher TWR-5 Weigh Scale, Data Collector & EID Tag Reader at this year's Beef Australia expo at Rockhampton.
"We'd had a weigh scale in the past, and liked the look of this system: it seemed user-friendly, was compatible with all the other equipment we have, had a good user interface, and a lot of options – and that was pretty much everything we were chasing."
Streamlining
Fraser says they wanted to track weaner weight gain so they could group animals accordingly, therefore streamlining management.
"We're working towards increasing our data accuracy. That's pretty important to what we do, but it's a slow process because we're only a family operation with just a few hands on deck, so it's very labour intensive".
"When we process the cattle at weaning, we get a weaning weight and can record anything else we want, like any treatments given. The fact you can record batch numbers against the products you use, like a 5-in-1 or a drench and can see what each animal has had, is great."
The Gallagher TWR-5 Weigh Scale, Data Collector & EID Tag Reader allows the Hewitts to draft by weight, weight gain, EID list, or recorded data or traits.
This "all-in-one" solution means hands-free EID reading, so only one person needs to be in the yards.
With an integrated EID tag reader, rather than needing to connect a separate device to the Weigh Scale to read EID tags, the EID reader's electronics are combined into the body of the TWR-5 scale.
The combination of the TWR-5's ease of use and integrated EID tag reader work very well for the Hewitt family, with significant savings labour wise.
As well as the TWR-5, the Hewitts use Gallagher Heavy Duty Weigh Feet. Designed for time-critical weighing applications, the system includes a spare loadcell that can be easily swapped in for use if things should go awry.
"For us, the fact that you've got the extra weight feet and the heavy-duty load cell was a big benefit."
Portable data collection
In addition to the TWR-5, the Hewitt's also have a HR5 Portable EID Tag Reader & Data Collector. The portable data collection and editing device connects via Bluetooth to other devices and allows them to record, edit and customise data anywhere on the property.
Fraser says, "We're just using it on the feeder cattle at the moment; it's allowing us to be able to split up steers and heifers more into better weight lines and manage them in different paddocks. That way we can have more specific weight gains in each paddock. So instead of having to go through and draft out 500 steers or something, we've got 150-200 thereabouts in each paddock in that set weight range that we know will be the next ones to come through, ready to sell."
Ease of use
The equipment's ease of use has also been a benefit.
"It's good to use; simple. The Gallagher support team are also very responsive if we've needed them: you just ring them up.
"The record keeping is now really easy, and it's detailed."
Contact us
"The Gallagher TWR-5 seemed to have less inputs required; you can really pick and choose what you want to put in, and what data you want to record against each animal, so it's very simple to operate."