Gallagher S400 solar units solve fencing dilemma
Saturday, 01 January, 2022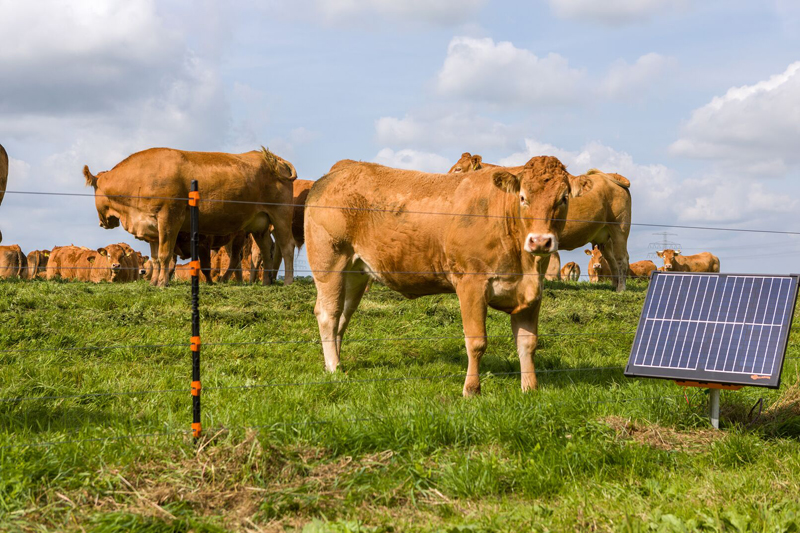 When calves kept getting onto the road, the Ryan family thought they'd have to replace kilometres of fencing, instead they found the solution with a heavy-duty, portable solar-powered fence Energizer – and without replacing a single wire.
The Fencing Dilemma
The Ryans run around 100 breeding cows, plus followers, on 162 hectares (400 acres) at Casino in the NSW Northern Rivers region, aiming at the beef vealer-weaner market.

Tim Ryan works off-farm in Brisbane, while his parents handle the day-to-day management of 'Glemmalo'.

"Dad's 82, so we need gear that's reliable and strong; we don't have time for stuff that doesn't work.

"We have some Charolais bulls and some Santa bulls; the breeds are quite mixed, so I call them 'liquorice allsorts'.

"We had mains-powered electric fencing for a long time, but all our fences are getting really old. The previous Energizer sat in the shed near where the road dissects the property into three paddocks, with the one unit feeding through all the paddocks. Earlier this year we just weren't getting any power at all; no kick. I'd say it was because of the rusted wire.

"The first ones to work it out were the calves. So because the electric fence wasn't working, calves were getting out into our neighbour's place: you'd see them skipping around the paddock then they'd just walk straight back through. They were also getting out on the road. It's not a bitumen highway, but we've got a dirt road that runs through our place and people come and go all the time and I was worried someone would clean them up. So we needed to get the fence sorted.

"Dad was getting pretty annoyed because he couldn't see where the shorts were. He was thinking to put in new fencing, where I thought we should maybe just replace the wire. However, in the last couple of years we've put some solar pumps in for water and I thought that technology was working well.

"Some people have said that solar seems expensive. My attitude is I don't live there: I live and work in Brisbane, so I can't be stuffing around with gear you've got to be fixing all the time. So I said solar is the go."
The Solution - S400 Energizer

Tim said from there, his dad did some research.

"He was telling me about it, then showed me some brochures that he got from a rural retailer about an S400 Portable Solar Fence Energizer – Gallagher's big, new solar one. We've never had Gallagher before on Glemmalo. Dad just said I think these Gallagher ones are the better.

"Our idea is to put a solar unit in each paddock, with each paddock running separately so if something goes wrong, the whole system doesn't fail. We were going to try a unit, but Dad liked these S400s so much that he bought two of them at once.

"The fence on the front lane was the worst: that's where these 'little' 300-kilogram calves were getting through. I really thought we might have to replace the wire, but then thought no, bugger it, let's re-strain the wires, put the Energizer in and see how we go. Time is the most precious thing for me, so if I didn't need to replace the wires, I didn't want to have spent that time."

The Ryans have two live offset wires on the inside of a four-wire fence.

"The first thing I liked was with these new S400 units is the recess in the unit to just slide the star picket up. It locks in on the crevices there; that's great. Everything is built in, it doesn't have a separate battery; the battery is in the unit so it's all very portable and contained.

"Secondly what I liked is that it didn't take long to set up. You hook up the battery and charge it up. Dad was looking around for something to hook the unit up to the fence, but everything you need to connect the unit to the fence comes with it. That's really good.

"We blocked the unit off so the curious little buggers don't eat the wires, put a star picket in, put the Energizer on, got it all connected and turned it on. That was it; we didn't replace any wires. Then we tested the fence – fantastic! We were getting 5,000 volts out of it.

"In the last 10 years when we've had problems with the fence we could get it up and running but would only average about 1,500 volts, which isn't a lot. When we put this S400 solar unit up, we'd finished about five in the afternoon, so the sun was going down. We hooked the battery up but I didn't know if it would be charged enough, because obviously it charges off solar. So to instantly get 5,000 volts was great."

With livestock trained to electric fencing again, Tim says it's also improved cattle behavior in the yards, making vaccinating and drafting, for example, much easier with calves respecting all fencing.

"We're working on having an S400 solar unit to run each paddock. I don't have time to be stuffing around with this stuff, digging, connecting through gateways – not interested.

"I hadn't used this technology before, but it's great. I like it."
Contact us
"Our idea is to put a solar unit in each paddock, with each paddock running separately so if something goes wrong, the whole system doesn't fail. We were going to try a unit, but Dad liked these S400s so much that he bought two of them at once."