Gallagher Insulated Line Post flexibility perfect over swamps and in floods
A descendant of NSW south-east region farming pioneers, Michael Shannon is keenly interested in efficiencies offered by the latest technologies.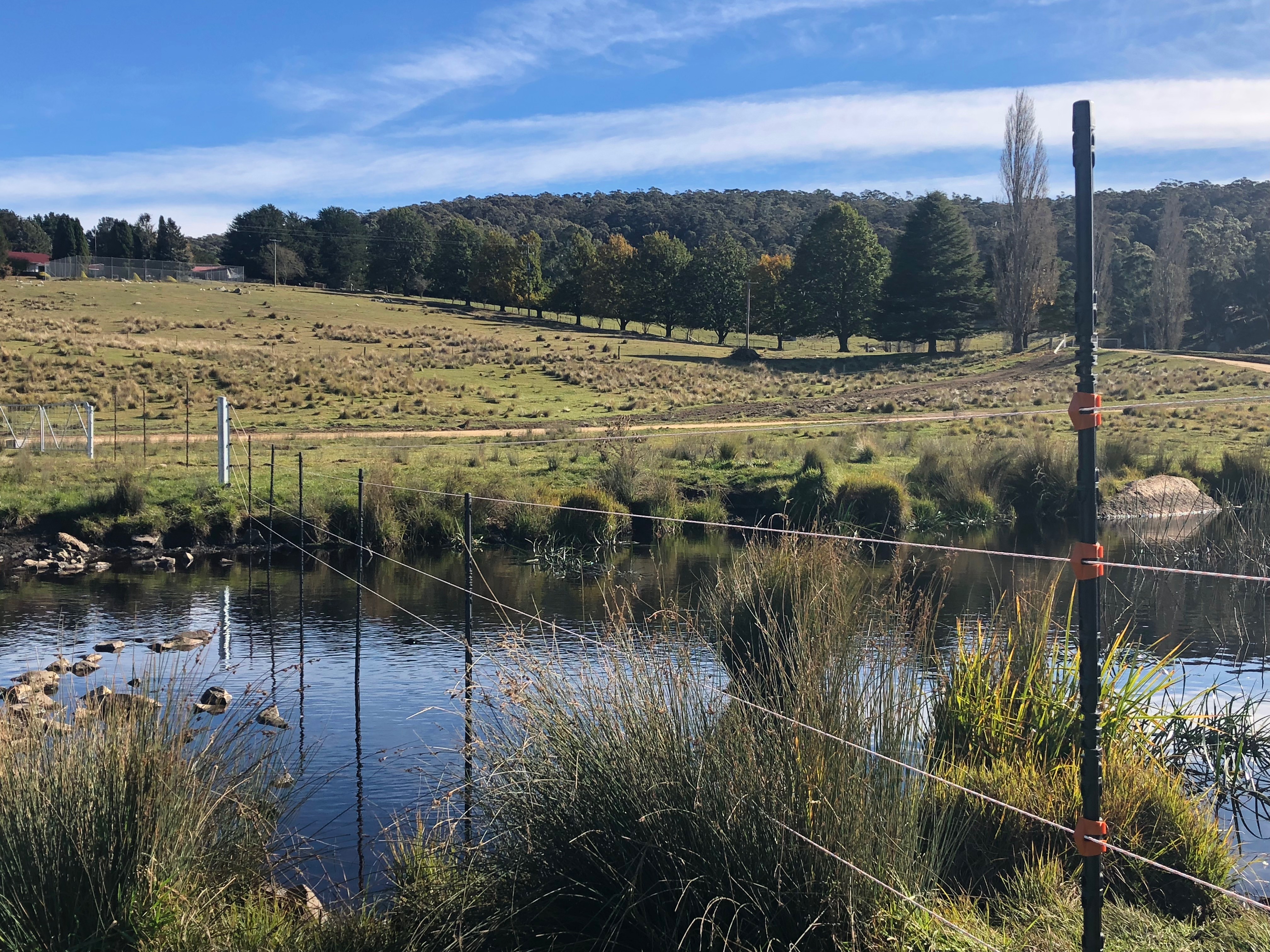 "If our day is made easier by one simple thing, that makes that day a damn good day. Anything that's a labour-saving device or a time-saving device that improves our lives, is the best investment we can make."
The fourth-generation producer farms in the high-rainfall, rich-soiled Cathcart grazing district, between Bombala and the South Coast, running 900 Angus and Simmental-Angus breeders with his family over the 1,400-hectare "Lowanna Properties", mostly aiming for the domestic markets and feedlots.
Having previously also run a prime-lamb operation, these days it's 100% cattle.
Seeking efficient waterway fencing
Cathcart's high rainfall means "Lowanna Properties" has some swampy land.
"We're in a 36-inch [914-millimetre] rainfall here, so floods always happen. Previously, we've just fenced across our waterways and swamps using iron posts and pinlock insulators. But we always used to have dramas when a flood would come through: the iron posts would bend over and they never really straighten again properly. On top of that is obviously the time to put the damn thing back up again, as well as putting new pinlocks on if they washed away or were broken."
Frustrated at the ongoing repair and maintenance costs in both time and money, Michael was wanting another option.
"I walked into my local store, saw the Gallagher Insulated Line Posts on the wall, and thought that's a bloody good idea. Dean Paton, our Territory Manager here, then showed me some photos of what they did at their farm, and I admired it. I thought what a great concept: it's simple, it's easy, it's a three-second thing to put up. It's perfect for what we're using it for in the flood-prone areas."
Flexibility slashes repair and maintenance
The key is the flex in the Gallagher Insulated Line Posts.
Michael says, "If you think about a concrete building, for instance, it's designed to move. An iron post is not designed to move, it's actually designed to stay fixed, so in a flood, it just gets pushed over but you can't ever straighten it again properly. So why build a flood gate that's super solid? Build something with flexibility that allows the water to pass through. The Gallagher Insulated Line Posts' flexibility just reduces damage when a flood occurs."
The Shannons have used the Insulated Line Posts in all their flood gates, floodways, across running waterways, swamps, valleys and other areas prone to flooding as part of internal fencing where they've created laneways or split up paddocks.
"This way they're the part of the fence line over waterways, joining with the rest of the mixed fencing, moving toward seven-wire electric fences with three cold and four hot wires.
"They're perfect: when we have a bit of rainfall, they'll flex around, but once you push them into the ground, you cannot pull them back out again, I'll guarantee you that – they are stuck in there, unless you use the special Insulated Line Post Lifter Attachment. That's the only way you'll safely pull them out of the ground – I've tested it!"
Simplifying waterway fencing
The Shannons use the tallest 1350mm Insulated Line Posts, spaced at six metres apart in highly flood-prone areas, and running the electric-fence carry wire across the top.
"The carry-wire sits right up above; it's barely even strained so it allows the post to flex around. With the 1350, it'd have to be one heck of a flood to take that carry wire away. Then we've got four runs of white tape – the Gallagher Turbo Braid – below the main carry-wire; the idea is that if a flood comes through, it can knock the Turbo Braid off but doesn't knock the rest of the fence out, so it's still allowing power to the remainder.
"The Gallagher Insulated Line Posts can easily cope with floods; once the water's gone, I just wander down there, and run some new Turbo Braid or new flexible wire, and put some clips on where they're needed. This system with the Insulated Line Posts simplifies what we try to do in our waterways, and is so much more efficient and effective than iron posts and trying to get them back perfectly again."
And he says constructing a fence with the Gallagher Insulated Line Posts is easy – even when going into exceptionally hard ground.
"They're very simple to erect. One day while fencing I was driving them into an old road. I nearly couldn't believe that at the start, but it was no dramas at all."
Ample power
Having originally powered their fencing with a Gallagher MBX2500, Michael is now using an M5800i Fence Energizer.
"The MBX2500 was state-of-the-art when we put it in, but now we have about 15 kilometres worth of multi-wire fence in our laneway system, so I felt we needed more power. The M5800i has more than doubled output, with 15,000 volts.
"We've recently added another 2km and connected it all up. We went over and tested the fence and it was running at 10,000 volts. It was okay, but seemed a bit low. We found four dead shorts in the fence, with one of the multi-wires up against the odd post where an insulator had been knocked off. Fixing that immediately took output back up to 15,000. But how's that: it's got enough power to punch through four dead shorts and still have 10,000 volts. Many farmers would say 'rubbish', but I can guarantee you now, your fence will punch through a dead short, no trouble at all – providing you have your earthing right."
Well-talked about fencing
Michael says setting a fence up properly is critical.
"Dean came out, and we had a good yarn. I've also been to field days to talk about fencing, as have my employees. You really need to understand what you're doing before you start doing it, because if you set it up right, you'll have a fence that stands the test of time."
"In the beginning, my earthing wasn't right; there's no point blaming the Energizer in those circumstances, it's all about knowing the do's and don'ts when it comes to erecting the fence and setting everything up. Dean has been instrumental in helping us determine what were the issues we had and how to overcome them.
"In the days of my grandfather Laurie Platts' Lowanna Hereford stud here, which he started in 1959, one dead short and the whole fence would be dead. However, in this day and age, where Energizers are intelligent, a dead short out means less voltage, not a dead fence. The technology is amazing to think about."
"Mates of mine around the area have lots of electric multi-wire fences erected and lots of [Gallagher] Westonfence and, genuinely, everyone's of the same opinion now: electric fencing is convenient, easy, quick and simple. If you set the fences up well, they are also a terrific help in grazing management with strip grazing and the likes. We're all Snapchatting each other, comparing notes on who's got the most volts running through their fence – whether it's 16,000 volts or 18,000 or whatever!"
Technological leaps
And it's this continual improvement in technology that Michael thinks is exciting.
"We've got an i Series Fence Monitor on the M5800i, which is how we found the shorts.
"But we'll certainly be looking to the future here. I was talking to Dean the other day about the emerging technology in remote fence monitoring, such as apps. For us, that's certainly on the agenda.
"I think the industry's future is in that space with regards to technology: it's remote monitoring, remote monitoring or remote monitoring. It's a saver of time, and time's the thing we're lacking. Rather than being reactive to situations with remote monitoring, we can be proactive. So Gallagher has got it right with the water systems and the electric fence systems, now we're seeing more with software to come. This technology in electric fences is like talking about outer space: it certainly is amazing.
"It's because of the technology that I lean to Gallagher. We have the Gallagher Livestock Manager TSi 2 Weigh Scale too. At the end of the day, I feel Gallagher is in this space now where it's so exciting. I'm in a very exciting generation: I've seen a little bit of the old, but all of these emerging technologies have just enabled my day to be so much easier and our business so much more productive. It's just so exciting to see Gallagher unveiling all this farm-productivity technology and hats off to them. I feel they're at the forefront."
"This system with the Insulated Line Posts simplifies what we try to do in our waterways, and is so much more efficient and effective than iron posts and trying to get them back perfectly again."