From 'stock proof to bullet proof': internal Gallagher Westonfence is ideal
Gordon Brown likes a fence "that's stock proof when the power's down, and bullet proof when it's electrified". It's the reason the Shelford farmer, 40 kilometres west of Geelong in Victoria, chose Gallagher Westonfence.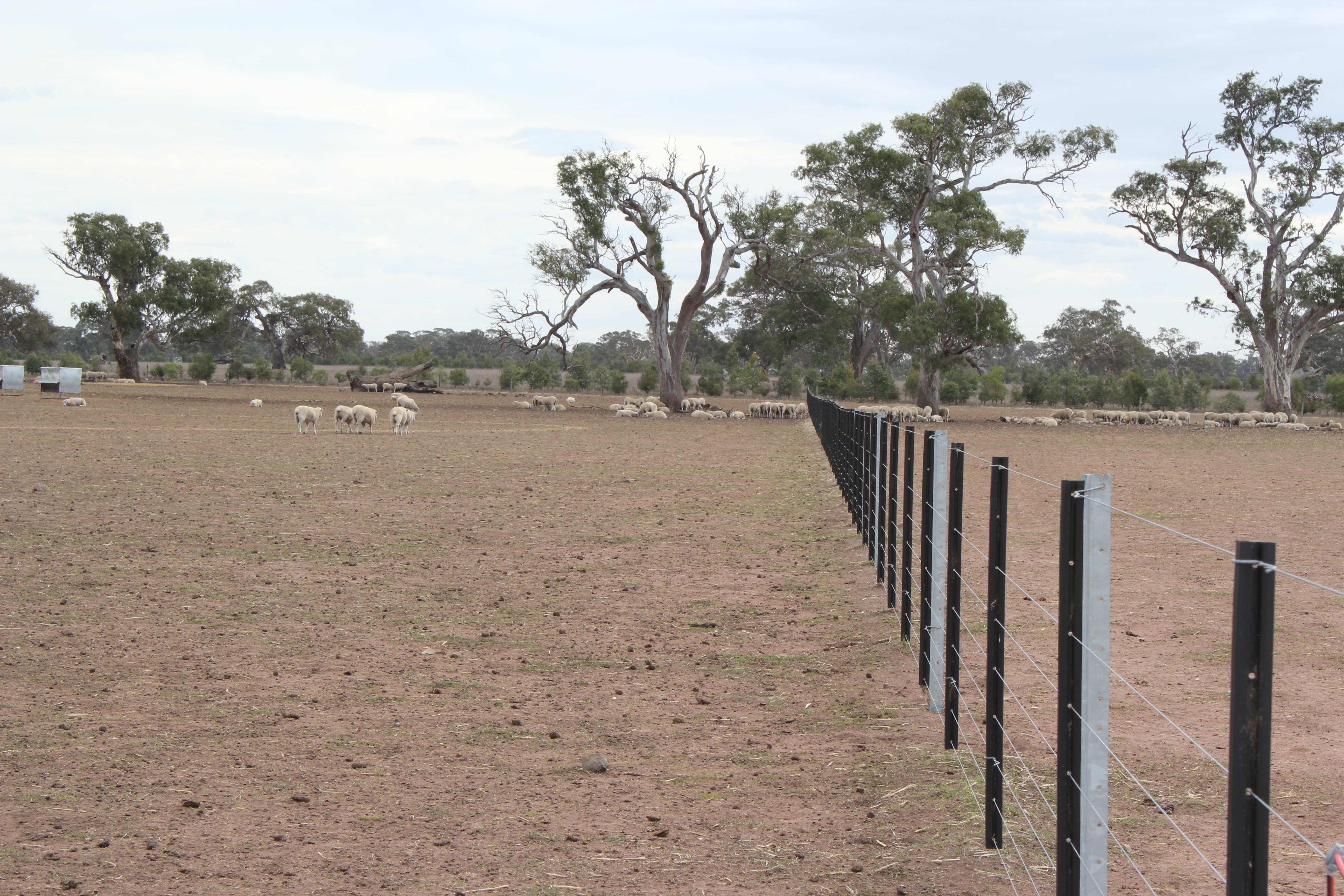 Gordon took over managing "Shelburn" in 2012, and began creating a self-replacing flock from Border Leicester-Merino first-cross ewes.
After evaluating different crosses, he uses Highlander and Lambpro maternal sires. This year, all but 300 of the 2,500 ewes joined were home grown. Fodder crops on the property's 1,214 hectares include 300ha of oats.
"As for pasture, we've established 200ha in the past two years and will plant a further 125ha this year."
Other improvements have been the fencing.
"I wasn't satisfied with the existing design of a lightning dropper-type to secure cross-bred sheep: I like to keep mobs separate. A lot of paddocks were too large, so I subdivided those, as well as wanting plantation fencing to grow 55,000 trees."
Experience points to fencing choices
Before deciding on what he wanted, Gordon spent a bit of time researching, to compare products and suppliers.
He chose a Gallagher Westonfence system, powered by two Gallagher M5800i Energizers with remote monitoring. The i Series Controller's LED fence performance lights turn red if there's a fault or sudden load increase, remaining green at all other times.
"I'd been exposed to both in previous management roles, so knew they were good. I'm using the two M5800i Energizers on separate sections of the farm."
Although people usually consider Gallagher Westonfence as boundary fencing, Gordon says its a quality choice for stock control; the fact he wanted lots of subdivisions saw him choose to use it internally too.
"[Gallagher] Westonfence is very competitive and on top of that, it only took two months to put up 40 kilometres of it in very difficult conditions over a wet winter."
Gordon says the reasons for choosing an electrified fence over a traditional fabricated fence were simple.
"I like a fence that's stock proof when the power's down, and bullet proof when electrified. Once livestock work out a way to escape, they never forget, so my plan is to never to allow them to learn bad habits but to have good control from the start, rather than trying to beat bad habits after they have already begun."
The eight-wire earth return fence has four hot and four earth wires; there are steel posts every 10 metres with three Gallagher Westonfence Insulated Suspension Posts in between.
Gordon says the well-constructed fencing has the ability to earth in dry conditions.
No post movement
The fences, which Gordon put up in his first year of ownership in 2012, need "next to no maintenance", just slight attention where they integrate with the stand-off wires. "And we never get shorts on them, unless a tree branch falls directly on it."
Neither has Gordon had any trouble with the Gallagher Westonfence Insulated Suspension Posts moving over time.
"I had trouble with kangaroos, but they never damage the [Gallagher] Westonfence. Those clips are an excellent design, and really do a good job of holding the posts in place."
Gordon says the fencing — with the i Series with remote monitoring powering the Gallagher Westonfence — has had an excellent impact on the day-to-day management of the property.
"It's made life easier; my fault-finding time is very minimal."
He cites other benefits, too: "A reduction in faults and time wasting; very stock proof for sheep and cattle; very visible to livestock; excellent for educating weaners, and ongoing control.
"I even have many older fences — not electrified — that the livestock respect, I believe, from their respect for the Gallagher electrified Westonfence."
"Gallagher Westonfence is very competitive and on top of that, it only took two months to put up 40 kilometres of it"