Cost-effective Gallagher Westonfence proves plane useful in the Yarra Valley
Yarra Valley agricultural contractor Scott White likes many things about Gallagher Westonfence — from the reduced tools he needs to install one, to its versatility in uses, right through to the cost-effective result for his clients.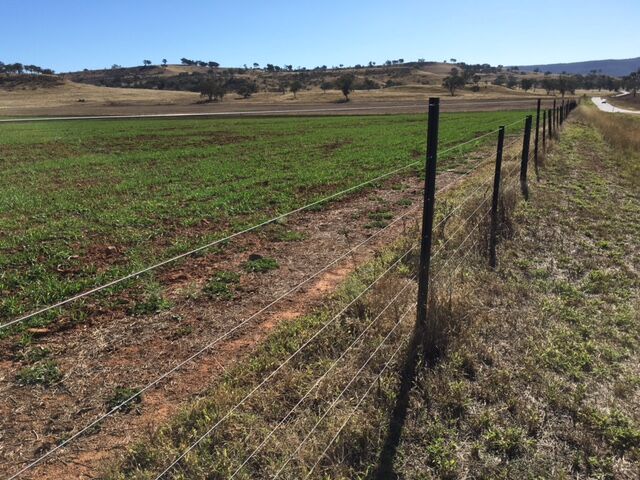 "If I'm heading to a job, I can easily fit a kilometre of fencing on the back of a ute and trailer and not have to move trucks and pine posts. Or if I do take a truck, I can fit five times as much in a load as you would a timber fence.

"Then when I get to a job, I'm only running a little petrol post-picket driver to put the posts in. I can put about 500 metres of fencing in with one litre of petrol – so it just doesn't use much fuel at all.

"One of the best parts is I've only got to drive in the end steel posts, so I've only got to run a $75,000 tractor for a minute instead of hours to drive in pine posts. That's a great cost saving in machinery. I don't actually need the tractor all the time either, because it's not doing all the work, so [Gallagher] Westonfence is really cost effective for me to put up."

It's also cost effective for his clients.

"Farmers ask me what can we build. The price of the pine posts are just getting dearer and dearer, so when I mention the [Gallagher] Westonfence, and then say it's going to be faster as well as cheaper to build, plus being high-density polyethylene [HDPE] plastic and stainless steel so it just doesn't rust, they're pretty interested."

Scott says he sometimes gets comments from farmers saying "droppers on plain wire fences are useless".

"So then I give them a lump of wood and say 'try and move it'. You can belt it or drive into it, those [Insulated Suspension Post] droppers just don't move. I've also found the wire tension makes the clips act more strongly."

Scott, who's been contracting around the Yarra Valley since 2005, first came across Gallagher Westonfence in 2009.

"My neighbour's also got a farm up in Condobolin in NSW, near where the Westons make this fencing. He brought a pallet of it down here and we started fencing his Yarra Valley farm with it. He was trying to come up with an idea of fencing down here that's not expensive and very low maintenance. This is it. The idea is good because it is so simple; the Westons are very clever to come up with that idea."

Scott says for those who've never built a Gallagher Westonfence before, the initial setup can be technical.

"But as soon as you figure it out, it's very straightforward to build. It's hard to explain to someone over the phone because they're trying to cross-reference it with poly droppers and what they know, but it's so different to anything they've ever used. But if they say they want a strong fence that won't short out, I tell them this is what we'll use."
Robust
Robustness is another benefit strongly in the fence's favour.

"The Yarra Valley is pretty hilly. If a hay bale ever comes out of the baler, it just takes off. If it's a standard fence, then there's broken wires and everything. But when it happened with a [Gallagher] Westonfence, I just went over — with no tools — and straightened the post back up. You wouldn't even know the bale went in there."

Scott cites having to remove rows of dead cyprus trees lining a 100m long driveway.

"All the trees had died and fallen down, and completely destroyed the fence flat to the ground. You couldn't even see it, but I knew it was a [Gallagher] Westonfence. So I took posts, wire, droppers, everything for the [Gallagher] Westonfence to rebuild it. But after we lifted the trees off, we pretty much just pulled the wires up out of the grass and straightened the droppers. Other than a couple of extra clips to straighten the droppers, I didn't use one new bit of material to repair a fence that had been completely flat on the ground for ages. Any other fence, and there would have been broken wires, broken posts and lots of damage. I was very impressed with it.

"Even with trees coming down on it, once you get the tree off, you can just carry a pocketknife to put the fence back up.

"My neighbour was explaining to me that when the flood waters came through up north, all the debris built up against paddock fences and lay them down. But where they had [Gallagher] Westonfence, those farmers stuck the tractor forks in and lifted 100m up at a time and just stood it back up. They were resurrecting fences 10 times the speed of everything else. It just holds its strength."
Versatile
Scott has used Gallagher Westonfence as boundary fencing, for feral exclusion and for internal stock control. He's also discussed with a client using it to set up a feedlot — "just because it's so cost-effective".

Setting up fencing for a bull sale showed the fence's robustness and versatility.

"We put up a five-acre set of pens for 160 bulls; they were very expensive bulls and there was no drama at all. It held them in, no problems. We did see bulls get pushed into the fence and if it was pine, they would have snapped or popped staples out, but the [Gallagher] Westonfence stood its ground.

"I've put it up on horse properties too for the same reason: because the [Gallagher] Westonfence's design is really strong, it actually works really, really well for horses.

"I've used it for everything. I've even used it for security fencing. If you look at a standard fence, anyone with farm knowledge can climb up over a post, or under a wire, and get through the fence. But with the Westonfence D9 XL, it's a 1,650-millimetre high fence and there is just no way you can physically crawl under it, climb over it or get through it. It's fantastic, and with multiple electrics you've got a good secure boundary; I find the earth-return system fantastic, even in really hilly country."

Scott's also found it useful to use on lease properties as a "temporary permanent fence".

"I've set up [Gallagher] Westonfence up on properties where someone has a four or five-year lease. You can pretty much pack it up as quickly as you can build it — and you're not damaging any materials, you're not pulling any staples out, nothing is getting twitched or cut like with a conventional fence. After a lease is finished, I can have the fence packed up in a pile and taken off the property quite easily."

Low-cost creek-crossing cover is another use.

"I've used [Gallagher] Westonfence droppers going over creeks, like a suspended fence so they can fold up and get out of the way. It's a much cheaper way to cover a creek crossing than building steel gates."
Flexibility
Moving large machinery that won't fit through gateways around a property is also no problem.

"You just unclip about 10 droppers, slide them along, bundle the wires in your hand then tie them to the base of each star post at each end, and you can drive through it quite easily. I reckon that would be very good up north; if you're using a big header you don't have to put in 30-foot or 40-foot expensive gateways that you're going to rarely use. You can collapse your fence with just your pocketknife, and put the whole fence down and back up in minutes."
Design options … with electricity
Scott has also found versatility in overall fence design using an electrified Gallagher Westonfence.

"I'm working on a job with an Energizer at one end of the fence from the hayshed. I want to branch my electrics off three or four different ways down the laneway. So I've set up a D7 [1100mm high ISPs] with multiple electric wires, where each electric wire feeds a different section of the farm. So instead of running separate hotwires, it's all running down the one fence and powering four different kilometres of a 500-acre farm. It's fantastic."
… with model planes
"They're so strong, so I've used [Gallagher] Westonfence droppers for all sorts of things. I've even made a model aeroplane out of one of them by putting a motor and wings on it.

"It made a very flexible, strong chassis. It actually worked quite well. I was looking for a strong structure that's really low cost; the [Gallagher] Westonfence dropper was the first thing I found in the shed. I crashed it, but the dropper is fine!"
Excellent result
Scott says typically, once he's built a Gallagher Westonfence for a farmer "they're over the moon".

"A lot of them have said they're just not going to build another style of fence. That's their new fence. When they speak to their neighbours and friends, who then come and have a look at it, it just snowballs from there I think. My dad's been a farmer for 50-odd years and he just can't fault it either.

"There's such better fencing out there now than two-plain-and-a-barbed-wire setup. Add the technology behind the electrics with Energizers and basically, you're building a better fence and it's still way cheaper."
"I've put it up on horse properties too for the same reason: because the [Gallagher] Westonfence design is really strong, it actually works really, really well for horses"