Nurturing a generation-spanning partnership
Monday, 05 December, 2022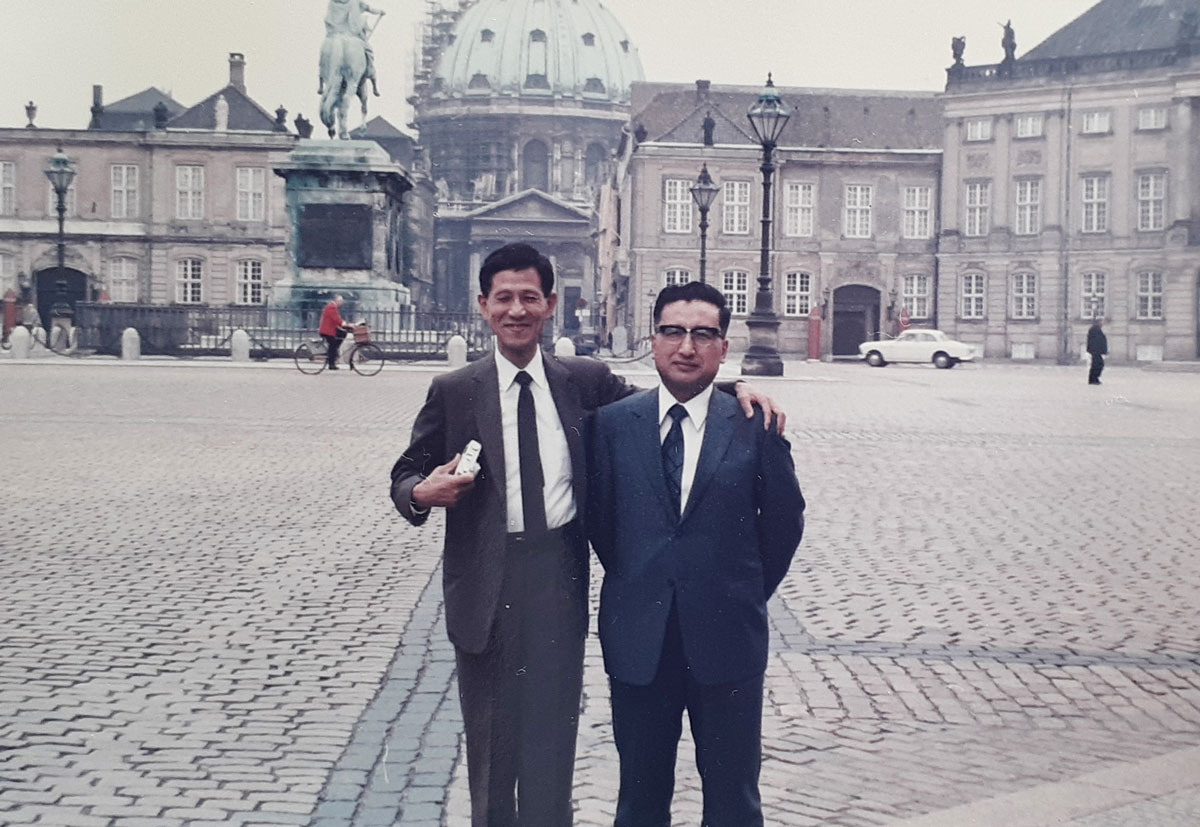 Since 1938, Gallagher has been a family-led business, helping farmers to harness the power to farm by delivering world-leading agricultural management solutions, that enable customers to operate responsibly, productively, and profitably. Back then, Bill Gallagher Senior made a long-term commitment to building a great business. Today Gallagher is still led by Bill Junior, now Sir William Gallagher and we're an internationally successful company, known and respected in over one hundred countries.

We're proud to let our values define how we interact with our people, our distributors, our customers, and the community, and believe that this approach is key to the longevity of the strong relationships we've built around the world. One such example is Gallagher's longstanding and multi-generational relationship with the Miyawaki family, who own Surge Miyawaki Co., Ltd., Animal Management's distribution partner in Japan.

Sir William established a distribution relationship with Mr. Shizuyoshi Miyawaki many years ago, and with the relationship still going from strength to strength, we recently caught up with Mr. Miyawaki's son, Mr. Yutaka Miyawaki. Yutaka, who took over management of Surge Miyawaki Co., Ltd. after his father's death, is now creating a succession plan for his son to take the lead in the near future, and tells us more about Gallagher and the Japanese agricultural market:


Do you know when your father and Sir William met for the first time, and how did they establish a distribution relationship between the two companies?

My father visited the Royal Show* in England in 1972 or 1973 and was introduced to the Gallagher energizer. He was impressed by the product and asked our managing director Mr. Noboru Sakai (known by many as "Nobby") to contact Gallagher and they both visited Sir William in New Zealand shortly after.

Surge Miyawaki Co., Ltd. had been established in 1958 to promote the Surge Milking Machine product (hence the company name "Surge"). Whilst this was our main product we also worked with electric fencing and animal identification.

After hearing complaints about locally manufactured energizers, my father saw an opportunity for Gallagher's low impedance energizers to make a difference in the Japanese market and with growth potential for both businesses we made the agreement!

* also known as the Royal Agricultural Show.



How did Surge Miyawaki Co., Ltd. establish the Gallagher brand in Japan, has it been hard to do when competing with other local solutions?

Gallagher's launch in Japan is a great story, the pronunciation made it very interesting for promotion! The name of a brand or product is so important when it launches. People could easily remember the name because one of most dangerous "rattlesnakes" is called the "GALA-GALA" Hebi (snake), taken from the noise they make when they "growl".

On the other hand, the introduction of the Gallagher electric fence system was not easy – demand for electric fences in Japan at the time was virtually zero as confinement farming (livestock in barns) was a common business model for farms at the time, so grazing management wasn't as important. One opportunity we had was with the "Public Farms" located in each prefecture and run by local government, but in those days, Japan's electric regulations were severe, and not practical for most farms to manage.

But then we got lucky – a big development project for a 2000ha grazing farm at the top of Hokkaido. Initially the developers used barb wire fencing, but after trials they found that this was not suitable for the long-term of the farm. When they looked for a more suitable, easy maintenance system to cover over 200km of boundary, they asked Surge Miyawaki Co., Ltd. If we could suggest an alternative, and this project kick-started the success for electric fences in Japan.



You have been at the head of Surge Miyawaki Co., Ltd. for a number of years now – how has Gallagher supported your business during this time?

My father, Shizuyoshi, passed away at the early age of 69 after a short illness. It was big shock for the company and for my family. But the transition to look after the business was not so difficult. I had been helping my father from a very young age, I had dreams of becoming a dairy farmer, and had a little bit of dairy farming experience, I had even been involved in modifying the Gallagher Main energizer BEV2 to meet regulations and receive Japanese electric certification!

An early business decision I made was for Surge Miyawaki Co., Ltd. to be the country's specialist for grazing & animal identification, which meant following growing markets over the years. From customers with very small herds in a back yard in the 50's and 60's, through to today with intensive grazing for large dairy farms and exclusion fencing against wild animals such as deer and boar.

Throughout this time, we have always been able to rely on Gallagher's quality products to last a long time for our customers and can target pricing and marketing campaigns accordingly to ensure the continued success of the business and growth into the new customer markets.



Looking ahead now, where do you see the growth opportunities for Surge Miyawaki Co., Ltd. and Gallagher animal management in Japan?

Surge Miyawaki Co., Ltd. will continue to supply Gallagher products to customers; The quality and reliability for our market ensures we can maintain leadership in Japan.

But to grow, we are always searching for new customer groups, leading the market is more exciting and profitable than being a market follower. How fast we approach these markets will be key.

I think that growth opportunities will be realised by finding customers with a different purpose to our existing customer base. Our customers are changing, but the foundational tool will still be Gallagher electric fence. What's important is finding how to create more profit for their businesses – some things we are exploring are:
Opportunities in the forestry market to use electric fencing to keep wild deer and other wild animals out of forest areas

Wildlife control in unused fields, in order to save pasture and crops for livestock.

We're also looking at the growth opportunities through more common use of weighing and EID practices in Japan. The W-0 Weigh Scale connected to the Gallagher mobile app makes data collection easy for customers at a reasonable price, which appeals to our customers and has a lot of potential for the Japanese market.




To continue our successful partnership Yutaka feels lucky that his son Mr. Kentaro Miyawaki (Ken) will take over Surge Miyawaki Co., Ltd. in the future. In fact, Ken became Marketing Manager in May 2021 and is already taking on more leadership responsibilities in the first step of the succession plan.

During uncertain times, and in a growing industry Yutaka knows that things won't always run smoothly for the business, which is why the relationships with their staff and strategic partnerships are so important. Yutaka is confident that Ken will take the reins to lead the company into the future, as he himself takes a step back to support and develop the business in new ways, as has Sir William in New Zealand.