Finding her true calling
Monday, 14 March, 2022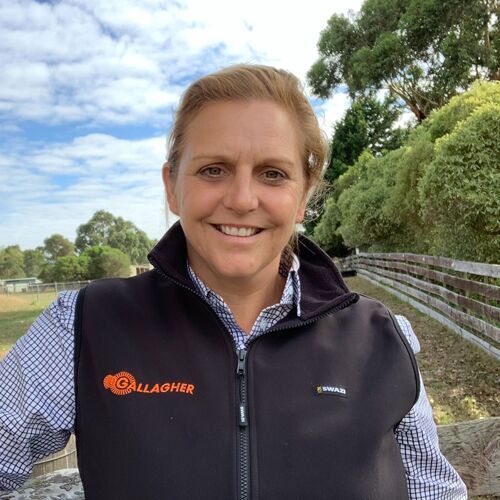 Jodi French is a self-confessed people person.
She started her working life in the early 1990s as a laboratory technician, but after a decade in the very clinical environment of a lab, it was evident Jodi was best suited to a job where she could build relationships with people.
Jodi says she has now found her true calling as Key Account Manager for Gallagher Animal Management Australia.
"From humble beginnings, my ambition was to be a vet when I left school. However, there were priorities that took my attention away from study and I left school early to pursue employment."
Without a university qualification behind her, Jodi says she worked tirelessly to successfully break into veterinary pharmaceutical sales and go some way to fulfilling her dream of working with animals.
Based near Melbourne, Jodi joined the Gallagher team in November 2020 after gaining a wealth of sales experience across Australia with global animal health giants, such as Boehringer, Pfizer and Novartis.
Industry Knowledge
Before joining Gallagher, Jodi worked at RuralCo Holdings Ltd as Sales and Category Manager, Animal Systems Victoria/Tasmania. Gallagher was a key supplier, so Jodi knew the company's culture aligned with her own personal values and what she could bring to the table.
"My career path wasn't always obvious, but my analytical skills and science background have been invaluable in my role with Gallagher. They definitely help me bring a broader perspective to the animal management industry."
Her role with Gallagher sees her connect with internal stakeholders across Gallagher's business and externally with the company's key supply partners.
Together with her team, Jodi also helps develop education that supports Gallagher's reseller partners to grow their businesses. This involves working with animal production specialists, livestock agents, merchandising staff, and the research and technical development teams at Gallagher.
Jodi says Gallagher is a company driven to help farmers be more productive, while improving efficiencies in processes.
"I help to fit all the pieces together. It's a very collaborative role, but we all work hard to make it work across the teams I engage with."
"Every day throws something new at you. Every week is different to the one before. It's never Groundhog Day. I guess I like the chaos that comes with the challenge of trying to coordinate it all."
Rural Roots
Growing up in regional North-Eastern Victoria, Jodi says it was inevitable she would pursue a career in agriculture – an industry she believes is attracting an increasing number of women.
"Agriculture by its very nature requires a level of understanding about the needs of producers, farming and sustainability of land. It can be very complex. My colleagues are extremely diverse in the roles they undertake.
"I echo the sentiments of our Gallagher Global General Manager Animal Management, Lisbeth Jacobs. It's not about male or female, it should simply come down to the best candidate for the job. It's about the right person for the role, regardless of your gender.
"My advice to anyone thinking of entering agribusiness is to be diverse in your thinking and be confident about giving it a go."
Jodi has experienced first-hand how passionate and hard-working people are in the industry. She says that fits well with her own personal values.
"These days agriculture is about getting more production and more profit out of every acre of farm. The drive towards this goal was initially driven by dairy and cropping. However, sheep and beef are making great strides in that space too," says Jodi.
"No matter what type of farming operation it is, our job is to make it easier for farmers to exclude animals, contain animals, protect feed on offer, collect data, monitor the gains and help producers to interpret that information to make better decisions. That's where Gallagher shines."
Thriving in Aussie's diverse farming landscape
While COVID-19 has limited her travel, Jodi says she enjoys experiencing the diversity of Australia's farming landscape, which presents its own challenges to her as a National Key Account Manager.
"We've got export cattle in the North, dairy, beef and sheep from Central Australia, and intensive production feed lotting that we work with. Everyone's farming environments are different," says Jodi.
"From operating in feed lots, large broad acre farming and lifestyle farms, it's important we adapt the products in our fencing and data livestock management range to suit. What we do is to provide tailored solutions to our customers."