Commitment to Customers Drives Territory Manager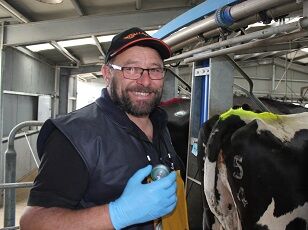 Girard Williams loves working for Gallagher because of the company's innovations. "They're a global leader in what they do, and the atmosphere is very rewarding."

He also enjoys getting on-farm and working with farmers to improve their productivity through electric-fencing systems to better pasture management through strip grazing.

"System design is really important here; just recently, a large, semi-corporate business approached me to help them. They had a few different systems but they weren't laid out properly, so I'm redesigning the setup, which has included re-fencing and re-routing power. They came to me because they trust us, which is great. They need the fencing for proper animal control rather than pasture utilisation, but the result is they'll be able to greatly reduce the time spent running around after stock, so they can concentrate on what they really need to do, knowing their fencing is doing the job properly."

In another situation, Girard helped a farmer set up telemetry on his electric fencing system.
"They border onto major roads, so can't afford for any cattle to wander. They came to see me about what fencing they could use; I told them what I recommended for the area, and also mentioned the data controllers we have. It means they can be notified of any failings on the fence line via text message, and can log in via the internet — anywhere in the world — and control the fence unit. They've gone with that on two properties now and it's been great peace of mind for them."

Girard says it's similar with Gallagher's WEID gear and sheep-handling equipment.
"When farmers are unfamiliar with using it, I can spend time with them and take them through not only using the equipment, but showing them how it can improve their productivity by taking them through data collection and management so they know what's going on with their animals, because they're tracking performance properly."

Girard also feels an affinity with rural resellers.
"I was a Territory Manager with Gallagher for a few years, but when my family was very young I wanted to be home every night, so I worked in a rural store from 2009-13. We sold Gallagher equipment among others, and that experience was invaluable. I really understand stores' issues and goals.

"When my youngest started school I was keen to get back to a TM's role, so when the opportunity arose for me to come back, that was perfect. I just love working with the customers and my colleagues."

To talk to someone about getting the most from animal management tools, contact Girard - or any of the Gallagher Territory Management team - on 1800 GALLAGHER.