Quality Management Tools Assist in the Production of Quality Angus Beef
Eight generations and 215 years of experience in the cattle business have taught the Lowe family of Smiths Grove, Kentucky the importance of quality when it comes to raising cattle.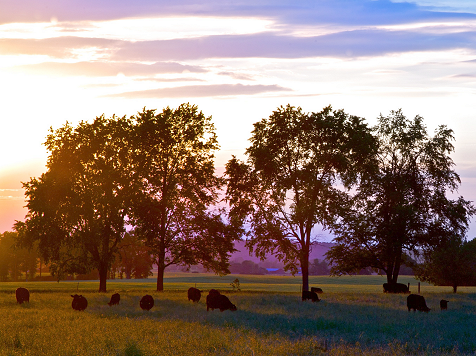 Kenneth Lowe explains his family's roots in the cattle business began with a feeding and finishing operation in the mid-1800s. The family business eventually transitioned their focus to a commercial cow herd in the early 1960s. Upon graduating from college in 1976, Lowe decided to stake his own claim and started Oak Hollow Angus after purchasing the farm next door to his mother and father's operation.

Angus was Lowe's breed of choice from the very beginning.

"I've never found any other breed that allows me to produce pounds of beef as efficiently as my Angus cow," says Lowe.

When it comes to producing quality cattle, Lowe says, it is a two-fold thing. For Lowe, his breeding program focus is all about the females. Currently his operation breeds about 350 to 400 females a year, calving out approximately 250 to 300 on the farm and selling the rest as bred females.

"My whole program is about building a better factory," says Lowe, "A cow that can breed at 15 months, calve at 24, do it unassisted, breed back, and do it again every 12 months until she is 12 or 15 years old."

Lowe chose to focus Oak Hollow Angus's breeding program strongly on maternal and production traits such as fertility, calving ease, milk production, and growth. He believes these traits are the most important in making a commercial cow-calf operation profitable.

When it comes to producing quality cattle, Lowe says, it is a two-fold thing.

"One, we want to produce an end product of the highest quality, but the other part of that is also to produce it at the lowest cost," Lowe says. "So I guess when it comes to quality (on a breeding operation), it's talking about selling breeding stock that will help make commercial customers maximize their bottom line."

Like most Angus producers, detailed records are an important part in maintaining breed quality on Lowe's operation. According to American Angus Association CEO, Bryce Schumann, quality in the Angus breed is measured, tracked and improved upon over time through data collection on the ranch level.

"Records submitted by breeders, like birth weight, weaning weights, calving records, feed intake, are used to build the American Angus Association's vast suite of EPDs (expected progeny differences) and $Values, along with pedigree and genomic information," says Schumann.

Thanks to producers' record-keeping efforts and submission of DNA samples for high-density tests to produce genomic-enhanced EPDs, the American Angus Association boasts the industry's most advanced and accurate genetic prediction tool available to breeders.

This focus on tracking and improving upon quality transfers through into the management tools Oak Hollow Angus uses to gather these records. A key component of this record-keeping system is weighing cattle.

Lowe uses an electronic weighing scale placed under his chute to record weights on cows and calves at birth and weaning, and as yearlings. In addition, measurements such as weaning and yearling heights, along with ultrasound scans of ribeye area, backfat thickness and intramuscular fat are also taken on calves during processing.

"Having electronic scales just allows us to get that reading a little quicker," says Lowe. "We're recording information on height, condition score, and ID numbers all at the same time; it's just a lot smoother."

Along with weighing systems, Lowe believes high quality, reliable fencing equipment is a must for running an efficient cattle breeding operation.

"I've been using Gallagher chargers since 1980," says Lowe. "At that time there were no other choices that were even close that I know of. If you want to use a fence charger, to me Gallagher is the one you should compare to, it's the top of the industry."

Lowe anecdotally says when people come to buy bulls, sometimes they spend as much time talking about fencing as they do about cattle.

Fencing is a system of components, says Lowe, and if one component fails, the whole system fails. By using Gallagher products, he has an economical fence which holds up and performs like it is supposed to so he doesn't have problems.

"In breeding cattle and putting up fence and how I manage my employees, let's eliminate problems," says Lowe. "Problems cost me money."

Last year, Oak Hollow Angus turned out 18 different herd sires in their breeding herd. Doing this involved a lot of natural service and keeping different breeding groups separate. There is no way to do this except good fencing, Lowe says.

According to Lowe, running electric fencing on the farm is a lot like having electricity in every room of the house – it needs to be the same way.

"I want electric fencing all over the farm so any time I need to run a fence for any reason all I have to do is tie it right onto my existing system," says Lowe. "It's all about managing where these cattle graze and how you control them."

Lowe says he could not imagine taking care of the amount of cattle he does without quality electric fencing.

With what it takes to make agriculture work today, Lowe says, you need all the help you can get. Having quality management tools to work with helps to make his day a little easier, allowing him to focus more on the important things in life like his family and producing quality Angus cattle.

"Running electric fencing on the farm is a lot like having electricity in every room of the house..."