Ensuring Cows in Good Condition for Calving and Mating
Huntly (NZ) dairy farming operation uses weighing to ensure cows in good condition in time for calving season.
Saturday, 01 January, 2022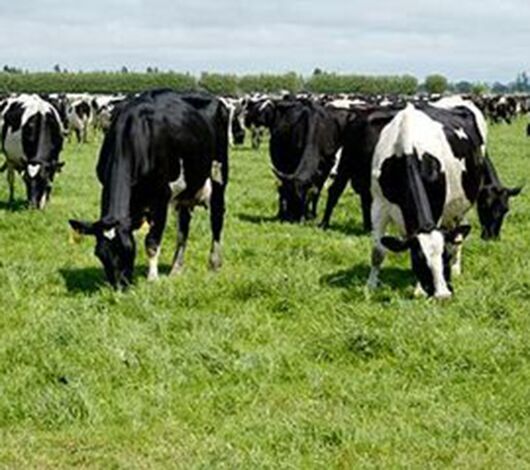 John and Christine McCormick are getting good value out of their Gallagher weigh scales, using them to weigh both horses and dairy cattle on their Waikato farm.
Pre Calving Preparation
The McCormicks, who milk 300 cows on 'TeAtatu Farm' at Waikokowai, near Huntly, New Zealand, say cows are typically weighed monthly over the winter months. The aim is to ensure cows are in good condition for calving and mating. Regular weighing also helps the McCormicks identify potential animal health issues.

John says calves are also weighed frequently."We want calves to be putting on a kilogram of liveweight a day, and if weighing shows that an individual animal is not putting on weight, we can do something about it."

The region is well known for its dry summers, so if calves are struggling to meet liveweight targets, the McCormicks will bolster their diet with supplement.

Linking Weighing with Electronic Identification
The McCormick's got more than ten years use out of their first set of scales and decided to upgrade to a Gallagher W610 Weigh Scale. At the same time they also purchased a Gallagher HR3 Hand Held Electronic Identification Tag Reader.
The W610 (shown here on another farm) is an entry-level electronic Identification (EID) weigh scale which can connect to any brand of EID reader. It has an extensive memory that can store weight readings from 12,000 animals. Additional livestock management information, such as average daily weight gain, can be calculated and displayed automatically when the animal is weighed.

The Gallagher W610 features two large LCD screens for data display. Both are backlit, making them easy to read in low-light conditions (like inside a shed). The W610 also enables five-way drafting by weight, and includes a full keyboard for manually logging visual IDs.

The W610 makes weighing cows and horses a quick and simple job for the McCormicks. As soon as the animal passes over the scales, its EID number flashes up on the screen. Livestock information can then be downloaded for further analysis.
Equine Weighing
As well as dairy farming, Christine also runs brood mares and trains thoroughbreds on the farm. She says thoroughbreds are weighed regularly to ensure they are in peak condition for racing. Horses are 'chipped' for identification purposes and the HR3 can read these chips.
Accurate Data Capture No Matter what the Weather
Christine says the HR3 makes the identification of dairy stock much more accurate than manual recording, "especially if a cow's tag is covered in mud". John says the HR3 was bought to simplify the process of identifying animals and help him and Christine cope with New Zealand's traceability scheme -

NAIT compliance requirements. The McCormick's sell about 130 calves a year – all of which need to be NAIT recorded before they leave the farm. Dairy heifers can also be recorded before they go off to grazing. Information collected via the HR3 can be downloaded to a computer and into a Gallagher animal performance software programme.

John says they also use Gallagher's NAIT Exchange software, making the transfer of information to NAIT much simpler.


Simple and Supported
He says the W610 and the HR3 are great products, and he enjoys the new technology "because even someone old and dumb like me can use it". Christine says while the extra work created by NAIT requirements can be a hassle, she and John are learning to live with it. "You can stick your head in the sand, or you can go with the flow," she says. "But this new technology definitely makes life easier."

She says the backup service provided by Gallagher has been very good. "They helped us set up the weigh scales and they showed us how to use the tag reader. They were definitely very helpful."
"I enjoy the new technology because even someone old and dumb like me can use it."